MadFinger Games has announced the release of Shadowgun, a third-person tactical shooter-style action game for iOS devices. It costs $7.99.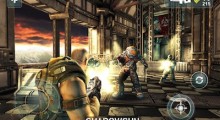 Shadowgun puts players in the role of a professional bounty hunter in the 24th century. John Slade, a "shadowgun," has been hired to hunt down Dr. Edgar Simon, a geneticist who has created a personal army of mutants, cyborgs and genetically enhanced humanoids. Slade must infiltrate Simon's mountain fortress through 10 levels.
Shadowgun is remarkable for its console-quality graphics; it was developed using the Unity development platform, which originated on the Mac and is now used to create games for many platforms, including console, the Web, iOS and Android.
The game supports both first and second-generation iPads, iPhone 3GS and iPhone 4 and fourth-generation iPod touch.