Electronic Arts (EA) and TransGaming on Tuesday announced the release of FIFA Soccer 12 for the Mac – the first time the popular FIFA soccer (football) game has come to the Mac platform. It's available for online purchase and download from GameTree Mac and other sources for $39.99.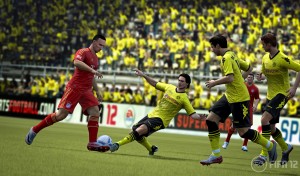 If you're familiar with the long-running franchise from its past appearances on video game consoles, FIFA 12 is a major change. Central to this edition's crop of improvements is the Impact Engine, which more accurate models physics like player-on-player collisions (this also affects player injuries). Also new in this release is Precision Dribbling, which lets you handle the ball with much more finesse especially in tight spaces or when you're trying to manage the pace of the game.
Tactical Defending reworks the way the game manages defensive strategies, by distributing the relevance of field position, pass interception and tackling. And Pro Player Intelligence is the moniker used to described the game's reworked artificial intelligence, which helps CPU players make decisions based on their real-world counterpart's actual skills and aptitudes, and by comparing the weaknesses of opposing players – creating more realistic field conditions.
As with all of TransGaming's Mac products, this game was developed for the platform using TransGaming's Cider translation layer technology. Cider has been used to bring a veritable multitude of Mac games to market in recent years, ranging from The Sims 3 to Grand Theft Auto: San Andreas.
System requirements call for Mac OS X 10.6.8 or later, Intel Core 2 Duo or better, 4GB RAM, ATI HD2600 or Nvidia GeForce 9400M or better graphics with at least 256MB VRAM.