Harman International on Thursday announced its JBL On Tour iBT, a battery-powered speaker system that wirelessly streams audio from your Mac or iOS device using Bluetooth. Its suggested retail price is $199.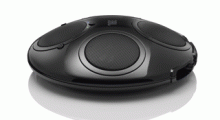 The JBL On Tour iBT incorporates four full-range speakers and digital signal processing hardware. It supports A2DP and AVCRP Bluetooth profiles. A built-in microphone also makes it suitable for use as a speakerphone for conference calls or video calls.
The device is powered with four AA batteries and also works with an AC adapter. A built-in USB socket also charges a connected iPad, iPhone or iPod.