Valve has released its seminal action puzzle game Portal for Mac and PC for free until September 20, 2011. The game is available for download through Valve's Steam download service.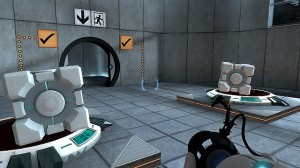 Portal was the first game from Valve to be published for the Mac when the company began supporting OS X in 2010. It's an unusual 3D platform-oriented puzzle game in which you use portal guns – devices that open dimensional gateways on flat surfaces like walls, ceilings and floors – and must make your way through an increasingly complicated and bizarre series of rooms filled with intricate traps and puzzles.
Valve has released Portal for free as part of their Learn With Portals initiative, which seeks to inspire kids to learn about science, technology, engineering and mathematics.
"Using interactive tools like the Portal series to draw them in makes physics, math, logic, spatial reasoning, probability, and problem-solving interesting, cool, and fun which gets us one step closer to our goal—engaged, thoughtful kids," reads a statement on the Learn With Portals Web site.
This isn't the first time Portal has been made free – when Valve launched its Steam service for Mac in 2010, the company similarly offered up Portal as a free bonus for early subscribers. If you missed your chance to get it then, you can get it now, but act fast.