Feral Interactive on Thursday announced plans to publish a Mac version of Batman: Arkham Asylum on Thursday, October 13, 2011. The game will cost $39.99 and will be available on retail shelves and for online download.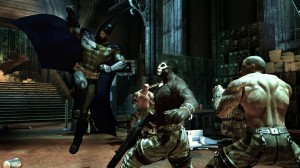 Batman: Arkham Asylum takes the Caped Crusader inside Gotham's hospital for the criminally insane, where the Joker has taken over and has set traps for Batman, conspiring with the other deranged inmates at the facility.
Players use Batman's stealth, strength and psychological terror to overcome opponents as he squares off against some of Gotham's worst criminals, including Harley Quinn, Bane, Killer Croc, Poison Ivy and Scarecrow.
The game features a story penned by Paul Dini, Batman writer and Emmy Award winner. It also sports the voice talents of Mark Hamill and Kevin Conroy, who reprise their roles as The Joker and Batman from the animated TV series.
System requirements call for a 2.0GHz or faster Intel-based Mac with at least 2GB RAM, Mac OS X 10.6 or later. Nvidia 7xxx series, ATI 1×00 and Intel GMA graphics chips are not supported.