I can't wait to get my hands on a guitar product after a company says it's perfect for live playing, studio tone, and is also an audio interface. No promise like that has ever come true, and it usually only takes an afternoon to pick out all the flaws in those promises.
[ad#Google Adsense 300×250 in story]Not this time.
I've been using Avid's Eleven Rack for months now in all of the situations it said it would excel and I have yet to find a major problem with it. In fact, I have yet to find a problem big enough that I wouldn't use it.
Let's take a quick look at the three main uses for Eleven Rack and see how it stacks up.
Live
There are many ways to use the Eleven Rack in a live situation. You can use the stereo outs and go directly into the board — this will send out your entire rig; you can go out to an amp from the front output; and you can go out to another amp from the rear output.
Or you can do all three at the same time.
Eleven Rack allows you to send your signal from any point in the chain to different outputs. So you could send output 1 after the modelled amp to your real amp; then, send output 2 after the effects, but before the modelled amp to another real amp; and then your entire rig from the XLRs to the board.
Those settings are completely adjustable by the user at any point in the chain. Basically the options for your live tone are now limitless.
The buttons and knobs on the unit are large and well lit, so you know what's what on stage, and immediately know where to go if adjustments need to be made on the fly.
The Eleven Rack is also the toughest piece of gear I've used. I had the unit perched on a table and it fell off. It sliced through the XLR cable and dented the hardwood floors, but there wasn't a scratch on the unit.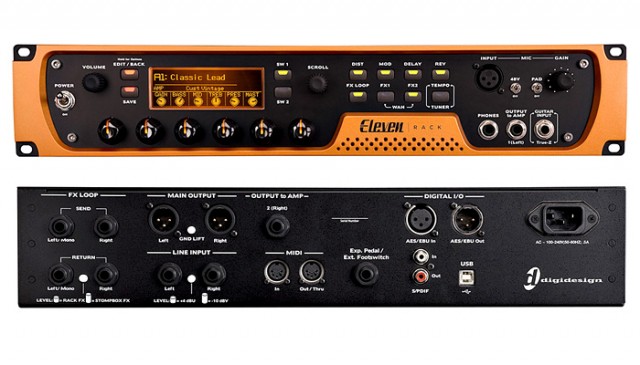 Studio tone
Everything in the Eleven Rack can be adjusted, from the amp and cabinet to the effects and where they appear in the chain. That gives you every opportunity to adjust your tone before laying down a track. There really is no excuse for a subpar tone with this unit.
Again, like the live situations, you can output and record your tone however you want. That's the beauty of using the Eleven Rack — there seems to be an option for everything and everything has an option.
There are plenty of amp, cabinet and effects models included with Eleven Rack, so you will always have some that will appeal to the type of music you play. If not, you can always make your own and save it to the unit. You can also visit Eleven Rack Presets, a repository for presets from the Eleven Rack community.
If you play the same gear in the studio that you do live, your tone will sound exactly the same no matter where you go. That's impressive.
You can also record a dry tone when recording from the Eleven Rack and then use the unit to re-amp that tone. It really does do pretty much anything you need.
Audio interface
With Pro Tools 9 you no longer have to use an Avid interface, but with Eleven Rack I want to use it. Besides the times that the band gets together and I need to record with 10 or 15 mics, the Eleven Rack is always plugged in and is the default interface.
There are some great integration points between Eleven Rack and Pro Tools that makes using it as an audio interface a no-brainer.
Pro Tools recognizes the Eleven Rack and brings up the software interface insides your Pro Tools session. That allows you to make changes to the tone onscreen or on the hardware unit. Whatever changes are made in one, is reflected in the other immediately.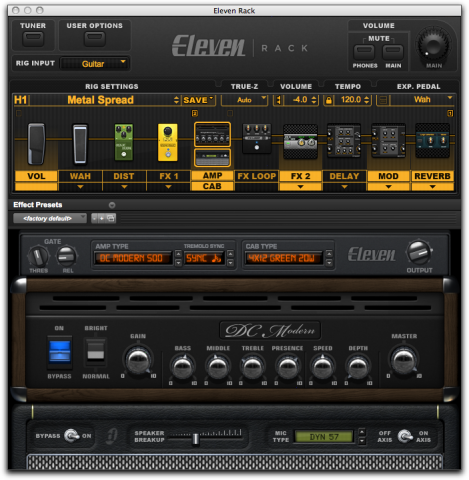 Here's another great feature. Pro Tools embeds your guitar tone into the audio track that you're recording in. In practical terms, that means that if you change your tone, record something, and then switch tones without saving your preset, you didn't lose anything.
All you have to do is right-click on the audio track and "load Eleven Rack settings." Your exact settings are back. You can then choose to save it as a preset so you can use it again later.
There are plenty of features in the audio interface for Eleven Rack too, like the ability to always match cabinets with your amp choice, volume controls etc.
Anything missing?
The only thing I would like from a live unit is to have a stompbox version of the Eleven Rack. It's not necessary, but coming from the analog days, I love to stomp on my pedals. However, as my tone becomes more refined, I don't find myself turning many things on and off anymore.
The only thing I found about the modelled tones and effects is with the Noise Gate. If you catch the gate right at that place where the sound wants to come through, there are some digital artifacts there. Of course, this is a picky point — just turn the threshold up and it goes away.
Bottom Line
Not only did the Eleven Rack meet my expectations, it wildly exceeded them. There is not a single piece of gear on the market today, that I can think of, that does more, or even as much, as the Eleven Rack.
If you are a guitar player or record for guitar players, you need an Eleven Rack.