With the release of the latest 13-inch MacBook, Apple has once again reduced the number of factors users have to consider when purchasing a laptop computer.
There was a time when you went shopping for a laptop that you would have to consider all the things you wanted to do with the machine and eliminate models based on those criteria. Things like having enough power to record music or process a mix are a thing of the past.
All of Apple's laptops are powerful enough to do all of those things these days. The only real consideration left is the screen size you want.
I chose the 13-inch MacBook Air. I have, and love, the last generation 11-inch model, but the screen was a bit small for my taste. I thought the 13-inch might do everything it did and give me the screen real estate that I wanted. I was right.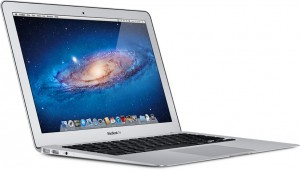 I've been using the 13-inch Air since last Friday, doing all of my day-to-day work on it. The machine was comfortable as soon as I turned it on. I didn't force myself to use it for a week to see how it worked, I wanted to keep using it.
My main laptop when at home is a 17-inch MacBook Pro, so you may think that it was a big change when I started using the 13-inch. In fact, it wasn't. The size of the keyboard and ample screen resolution made the switch pretty easy.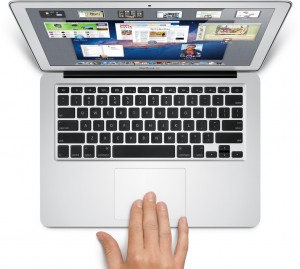 What the smaller screen did do was make me use gestures more on the 13-inch. Scrolling through Web sites and even navigating left or right are now done using gestures. I didn't see the full benefit of gestures until now, but I don't know what I'd do without them now.
The battery life is amazing too. I sat outside working most of the day on Friday on a single charge. That work consists of writing and posting stories on the Web, working with images, and other small tasks, but that's what most of us do on a regular basis. I'm impressed enough with the battery, that I don't really think about unplugging it and working somewhere other than my office.
Of course, the MacBook comes with Thunderbolt, a new I/O technology that's available in many Apple computers now. Thunderbolt can handle everything from displays to high-speed peripheral devices on a single connection. I don't have any devices yet, but as a musician, I can't wait to try some out.
Speaking of music. One of the final tests I did with the 13-inch MacBook was with music recording. I figured if anything was going to trip up the Air, it would be recording my guitar into it.
Latency for a musician is enough to kill a session. In other words, if you strum your guitar and the computer can't process the audio fast enough to output in real-time, you get a delay in hearing what you played. It's like watching a movie and the audio track isn't synced with the video.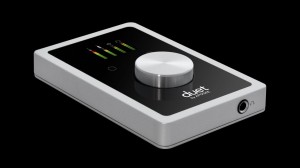 I used the Apogee Duet 2 as my audio interface, plugged it into the MacBook Air, plugged in my guitar and launched GarageBand. With absolutely no configuration, I was recording my guitar in GarageBand with zero (or near zero) latency.
I added some drum tracks to the project, switched amps in the middle of the song, added effects and did pretty much everything else I could think of to make the MacBook Air flinch under the pressure.
It handled everything I could throw at it and never missed a beat. Now that is what I want out of a laptop.
With OS X Lion pre-installed, the MacBook Air gives users Apple's latest hardware, including some of the industries fastest technologies and the most modern operating system on the market today.
The 13-inch MacBook Air is the computer that all other laptops will be measured against. It has power, portability, and a sleek design that is only matched by other MacBooks.