The first measure of any professional audio product or instrument is its sound quality. Once you have that, the rest is often a matter of personal preference. In this instance, the hardware that is the vehicle bringing your audio into your DAW, or any recording interface, involves a lot of factors that can make or break the output of even the best quality source. I/O (input and output) audio interfaces are far better than they were in the past, but Native Instruments Komplete Audio 6 offers so much quality and value in this product that their competitors will need to step up their game to compete.
[ad#Google Adsense 300×250 in story]Again, with sound quality as the first priority, the Komplete Audio 6 sounds excellent – and not just at this price point. It offers a very clean, flat response to input from any of its input source connections. The interface is very well laid out and the physical build quality is incredibly solid. There is no sense that this is a flimsy product and the tactile appeal is remarkable. The small physical size (approx. 5" X 6" X 2") is great for home studios and its nearly two-pound weight allows this small box to feel substantial. The knobs and buttons are smooth, solid, and have nearly inaudible noise levels – even when the gain is at maximum.
This USB bus-powered six-channel interface offers sample rates of the standard 44.1, 48, 88.2, and 96 kHz, as well as both 16 and 24-bit resolutions, the Komplete Audio 6 runs at the highest quality settings with extraordinarily low latency (delay time in the audio signal path) for a product at this price point. In fact, after attempts to create latency by adding a powered USB hub into the signal chain (something NOT recommended by the manufacturer and clearly stated in the user manual), the performance quality remains superior to other similar products that are at a high price point. With on-board Phantom power, XLR, TRS (1/4"), and MIDI inputs as well as a very low distortion headphone output, this is a versatile interface device that allows for a lot of connectivity. The clearly thought-out monitor output sounds great and is independent of the main levels. The well laid-out indicator lights are easy to see and surround a very smooth main volume knob. All of this makes navigating the physical interface incredibly intuitive and less about hunting for what is actually "on."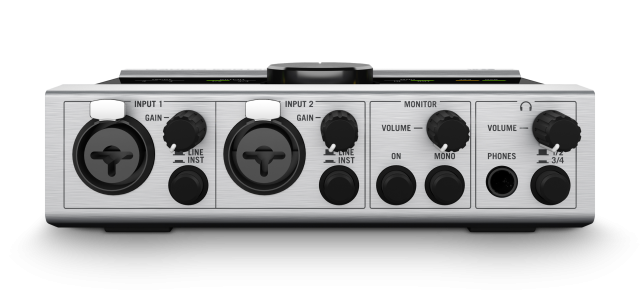 The Komplete Audio 6 requires a minimum system of 10.5 (or later, including 10.6x), an Intel Core Duo processor, USB 2.0, and 2Gb of RAM, but bear in mind that you'll be running your recording and/or editing software while using this device. For this evaluation, a 2009 2.8Ghz MacBook Pro with 4Gb of RAM and OS X 10.6.7 performed like a champ. Native Instruments adds even more value by including a software bundle with Cubase LE5, Komplete Elements sound library, and Traktor LE 2 DJ software. Of course, like most interfaces, it runs flawlessly with Logic, ProTools, and even GarageBand. As you might expect, Native Instruments includes support for ASIO, CoreAudio, DirectSound, and WASAPI drivers. The complete specifications are found on their website.

While connecting your microphone directly into the Komplete Audio 6 works beautifully, use of an external mixing console does allow for more flexibility and, for example, recording live performances. Obviously, this is a far better solution to the mic input jack on any laptop for recording a concert, rehearsal, radio show, or conference, to name just a few, and this is a product that feels road worthy (but a good, padded case is highly recommended, of course).
The Komplete Audio 6 has a suggested retail price of $339.00 USD and the average "street price" is around $299.00. For audio quality, build quality, versatility, and value, this is an outstanding product that won't take up a lot of space. Pay attention, Focusrite, MOTU, Presonus and others. While the price may be in the middle of all of your products, the Komplete Audio 6 comes out on top in performance and value.