It may be difficult to get over being skeptical about digital drum kits — and it was — until a friend, and well-known performer, recommended (and, in fact, insisted) investigating the Yamaha DTX-950. His point was simply that they are not like anything else on the market and that playing them would remove any skepticism. As a drummer, audio engineer, and a technology writer, the mission was to be impressed.
[ad#Google Adsense 300×250 in story]Up to this point, most drummers grade electronic drums on a curve where the quality was only relative to other digital kits — particularly by comparison to earlier models as technologies improve. Yamaha was able to do something that no other similar product (to this point) was able to do. The DTX-950 digital drums combine a more natural playing "feel" with great sound and a ton of features so the sensation is that it is not a digital drum set at all. When you look at the models from some of Yamaha's competitors, the DTX-950 is larger in its footprint, but not nearly as large as other brands' "faux-acoustic" drums. The DTX-950 has an incredibly durable feel, tactile appeal and outstanding build quality that holds up to the most aggressive playing allowing finesse and sensitivity down to a proper buzz roll, or for any style of drumming in between.
The DTX-950 will make any drummer want to spend more time playing. It is responsive to each stroke without feeling too bouncy and feels more intuitive physically. For the first time with this type of product, this kit does not feel like an advanced toy or a tech gadget. Without question, this is a professional quality product for any drummer who wants or needs electronic drums. There is so much capability, both built-in and with expansion, that adds to the value of this product.
The test configuration included Yamaha's DTX-M12 percussion pads as a sidecar, plus (highly recommended) the outstanding Ocean Way Drums sound modules. What you get is nearly limitless possibilities, capabilities, and usability that is a lot of fun to play. With that said, all of this quality comes with a price that is on par with Yamaha's best acoustic drums; however, when you consider its applications and functionality, the DTX-950 is a great value.
What's In The Box(es)
Unpacking involves many large boxes and at least an hour of time, but the setup is intuitive. Once you realize the standard Yamaha method of assembly, it all easily comes together. Be sure that you have a lot of space in your setup area to accommodate both the kit and the packaging once they are unpacked. Yamaha's HEXRACK system is easy to assemble and allows for tension lock placement in nearly limitless positions, but it is important to try inverting the mounts and adjusting the heights — as you would with an acoustic drum kit. After the assembly and initial adjustment of the HEXRACK, mounts slide on with a locking pressure cuff-type system. Of course, some adjustments will be necessary as you get comfortable, but a little fine-tuning of the placement feels like any great drum kit when it is time to play.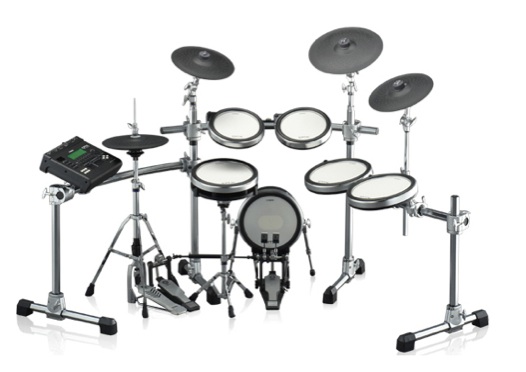 First, and most noticeably, is the 12-inch DTX snare pad. This textured silicone pad has more density and resistance than the tom pads making it feel more like an acoustic snare head than the practice pad feel of other brands. The bounce is more reflective, but ghost notes and buzz to open rolls are audibly responsive. Side-stick hits to the edge of the pad have a good feel, as well. The pitch and sensitivity are easily adjustable for the pad and the DTX-950K control module to fine-tune the response to your playing style. The snare pad even has the sensation of a "sweet spot" that responds to the velocity of the stick, sounding tighter on harder strokes, but heavy hitters may find it useful to dial back the sensitivity. The point at which the sensitivity changes to a tighter sounding sample can be a hairline of difference. Taking a little extra time to make the adjustment may be worthwhile, but depends on your style of playing and attack.
The pad set also includes two 10-inch rack toms and two 12-inch floor toms, as well as three cymbal pads with three zones. The feel of these pads is surprisingly responsive and, the ride cymbal bell attack works well, but has a bit of resistance. The two-zone hi-hat pad is also more rigid and nicely allows for accent playing, but the lightweight stand takes a bit of getting used to if your foot's muscle memory is accustomed to more resistance from a heavy-duty stand. Adjusting the hi-hat sounds for slight or tight closed sounds is great, but it does take a few steps to navigate through the settings to make changes. The kick drum pad is incredibly responsive offering both enough resistance with attack as it does stomp and feel. Although there is no kick drum pedal included, a Yamaha 8500C or 9500D pedal give you great stability and feel.
The DTX-950K module employs Yamaha's MOTIF technologies, as well as their DSP effects. If you are not familiar with adjusting the parameters of these features, you may want to do a bit of homework to get the most from their capabilities. Again, Listening to the output as you make changes, then saving your configuration to the user set, will make a huge difference. Connectivity is possible from a variety of options including MIDI in/out, USB, and TRS 1/4-inch jacks as well as on-board sampling up to 44.1 kHz. There is also a memory expansion of up to an additional 1GB for sampling in AIFF, WAV or Yamaha's proprietary DTX formats. One favorite feature is the stereo 1/4-inch audio input with gain control so that playing along with your favorite tracks on your iPhone, iPod, iPad, or other player is just a matter of plugging in. Plugging in a music player to perform with DrumFun tracks was incredible with the DTX950 in that the volume did not need to be excessive. Playing was possible for extended periods at lower volumes with less fatigue to the hands and, of course, the ears.
Digging In
For listening to the DTX-950 while you play, a good quality speaker/sub combination or monitor headphone/earphone system is essential to get the real feel. Great results came from the Yamaha HS active monitors with HS10W sub, Ultrasone Pro 750 headphones, and Future Sonics custom Ear Monitors. You will definitely want the low-end and warmth of these types of products, but it is a matter of personal preference.
Clearly, the DTX-950 can be great for live performance, as well, if your situation is appropriate for an electronic kit and, like in the studio; there is a lot of capability here. The sequencer is 2-track in real-time and does a more than adequate job for most drumming needs. The drum sound presets included are fairly standard and setup in a basic configuration so playing is possible immediately after setting up the kit; however, adjusting the sensitivity, gain and pitch to preference is a bit of hit or miss. Having the additional DTX Drum Masters sound samples from Ocean Way Drums created for Yamaha is just amazing and highly recommended. There is also a free Ocean Way sample expansion library available for the DTX-950. This is the most realistic sound and feel, right out of the boxes, of any digital drum kit to date. It is more than just fun to play; it makes you want to play more and helps with accuracy.
The Final Word
As someone who has played on nearly every brand of electronic drum kit (going back to the original Simmons and DrumKat, as well as V-drum, ePro, and DM drum models), Yamaha DTX-950 drums are the hands-down winner in this category. They are the drummers' electronic drums offering a sound, playability, and usability that include so much capability. Given their price point, taking the extra steps of adding the memory expansion and Ocean Way Drums samples is well worth the extra cost. The tactile response, bounce, and feel are surprisingly excellent from the pads for every style of playing imaginable. If you find that the price tag is a bit cost-prohibitive, Yamaha also offers their DTX-Series electronic drums in their DTX-700 and DTX-500 models that are well worth a demo. The DTX-950 is perfect for smaller studios, home use, and as a learning tool. This is an incredibly well made, durable, and fun product that impresses ears, hands, and any drummer's wish list. This is the one. Yamaha raises the bar well beyond the reach of its competitors. Was this drummer, engineer, and writer impressed? Definitely.