Apple on Tuesday released a new line of iMacs, adding some powerful new features to its all-in-one line of computers. Company executives took some time to speak with The Loop about the release.
[ad#Google Adsense 300×250 in story]One of the big new features of the new iMac is the addition of Thunderbolt, a new I/O interface that Apple and Intel introduced in February with the release of the MacBook Pro. Thunderbolt supports high-speed connectivity with storage systems and other forthcoming devices. With adapters it can work with Gigabit Ethernet, FireWire and USB peripherals, too.
Thunderbolt is a dual channel technology, so you get high-speed from both channels — one doesn't slow down the other.
"There's a variety of uses for Thunderbolt because it's so flexible," David Moody, Apple's vice president of Worldwide Mac Hardware Marketing, told The Loop. "The performance is incredible."
Another new feature of the new iMac is FaceTime HD. FaceTime was introduced on the iPhone and has since made its way to the Mac and iPad. Apple says the simplicity of the technology is one of the big advantages of FaceTime for users.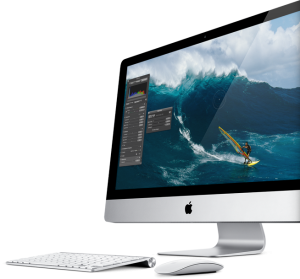 "It's really great that people can connect to each other and use video conferencing in such a simple way," said Moody. "It just really easy to take advantage of FaceTime on a Mac, iPad or iPhone."
With the release of the iMac, Apple is improving a line of computers that have sold incredibly well over the last few years. In its most recent financial quarter, Apple said it sold 3.76 million Macs, a 28 percent unit increase over the year-ago quarter.
In fact, Apple has outpaced the growth of overall PC industry for the last 20 quarters in a row, according to market research firm IDC.
"A big part [of the success] is that we build great products," said Moody. "People love this product and they see a great combination of hardware and software that they want to use everyday."