A new report released on Friday by market research firm IDC shows Apple's iPhone had substantial growth in the first quarter of 2011.
[ad#Google Adsense 300×250 in story]According to the report, Apple's iPhone shipments went from 8.7 million in the first quarter of 2010 to 18.7 million in the first quarter of 2011. That brings Apple's market share from 2.8 percent in 2010 to 5.0 in 2011.
That's an increase of 114.9 percent, the largest growth of any manufacturer, and puts it at No. 4 on the list of top five vendors. The list of vendors exclude OEM sales for all vendors, according to IDC.
"The company posted the highest growth rate of the worldwide leaders," wrote IDC in its report. "Apple's results were buoyed by strong sales on Verizon Wireless and additional carrier deals."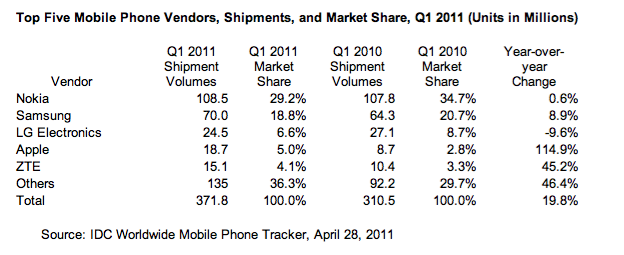 Nokia topped the list with 108.5 million shipments, 29.2 percent market share, but only 0.6 percent growth. Samsung was second with 70 million shipments, 18.8 percent market share and 8.9 percent growth.
LG grabbed the third spot with 24.5 million shipments, 6.6 percent market share, and -9.6 percent growth. Apple is fourth and ZTE rounded out the list with 15.1 million shipments, 4.1 percent market share and 45.2 percent growth.