Square Enix has announced the release of Final Fantasy III for iPhone and iPod touch. The game is available for $15.99. Square Enix has noted that an iPad version is due out in April.
[ad#Google Adsense 300×250 in story]Final Fantasy III is a role-playing adventure game in which you take the role of Luneth, a villager who goes on a journey with three others after an earthquake shakes the land and swallows up sentient crystals which have protected their land for generations. It's up to you to help restore balance to the world.
Final Fantasy III is now 21 years old – first released in Japan in 1990, and in 2006 resurrected for the Nintendo DS. If you're already familiar with the DS version, you'll find the iPhone version has been distinctly improved, now sporting improved 3D graphics; touch-screen controls optimized for the iPhone; quicker browsing through the monster beastiary and other game records; new visual designs for the Job Mastery Cards; and graphic compatibility with the "Retina Display" found on the iPhone 4 and late-model iPod touches.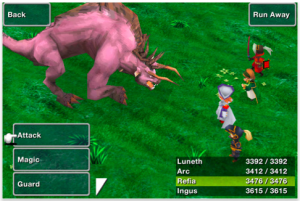 The price of Final Fantasy III is bound to raise the eyebrows of many iOS gamers. At $15.99, it's at the extreme high end of iPhone games, though to be fair, it's a fraction of the price the game originally debuted at for the DS back in '06. Based on the early reaction of App Store reviewers, the pricing doesn't seem to be causing too much consternation – Square Enix enthusiasts are simply thrilled to have this game on iOS.