Avid on Tuesday released the Eleven Rack Expansion Pack. As the name suggests, its an add-on for the company's Eleven Rack amp and effects processing systems.
[ad#Google Adsense 300×250 in story]The Expansion Pack includes much more than just a few new amp models. It also includes a new channel strip-type signal processing, allowing you to capture vocal and instrument performances using the same workflow as you use for the guitar.
Eleven Rack also gets one of the great bass amps with the update. I would describe it myself, but this is probably one of the best descriptions I've seen. From the Avid Web site:
"When it comes to getting that big, ballsy, blow-'em-away tone, guitarists have their Marshalls. Bassists bow to the great Ampeg SVT bass amplifier. And now you can get that thunderous, sought-after sound of rock legends worldwide with our hyper-realistic emulation of the vintage 1969 Ampeg SVT bass amp head and 8×10 speaker cabinet."
A new dynamic stereo delay has been added and the Speaker Breakup found in the Eleven plug-in has been added to the rack version.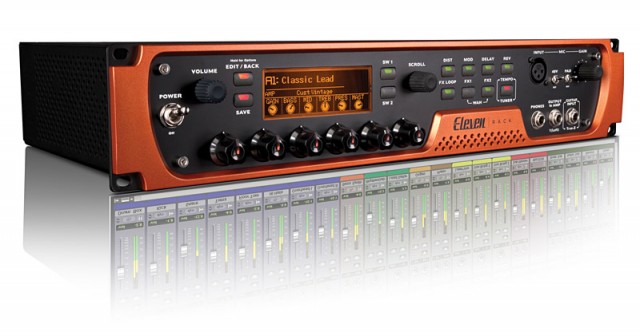 Now for the meat of the update for us guitarists. Here is what you can look forward to after installing the Eleven Rack Expansion Pack:
New amp emulations:
Blue Line Bass (based on the 1969 Ampeg SVT head)
J45 (based on the 1965 Marshall JTM45 head)
Black SR (based on the 1965 Fender Super Reverb combo amp)
MS-30 (based on the 1993 Matchless D/C-30 combo amp)
Plexiglas Vari (based on the 1967 Marshall Super Lead "Plexi" head with Variac modification)
Plexiglas 50W (based on the 1968 Marshall Super Lead 50W head)
RB-01b (based on the Bogner Ecstasy 101B head)
Custom Modern Clean Amp
Custom Modern Super Overdrive
Custom Modern 800
Custom Vintage Clean
Custom Vintage Overdrive
Custom Bass
New speaker cabinet emulations:
8×10 Blue Line (based on an Ampeg SVT 8×10 with "towel bar")
4×10 Black SR (based on a Fender Super Reverb 4×10 with CTS Alnico speakers)
4×12 Green 20W (based on a Marshall 4×12 with Celestion Heritage G12M speakers)
4×12 65W (based on a Marshall 4×12 with original issue Celestion G12-65 speakers)
2×12 B30 (based on a Bogner 2×12 with Celestion Vintage 30 speakers)
2×12 Silver Cone (based on a Roland JC-120 2×12)
1×15 Open Back (based on an Ampeg Reverberocket 1×15 with Jensen C15N speaker)
1×8 Custom
New effects emulations:
Parametric EQ (4-band)
Dynamic (Stereo) Delay
Dyn3 Compressor/Limiter
Multi-Chorus
Custom Distortion
White Boost Overdrive (based on the Xotic RC Booster)
The Eleven Rack Expansion Pack costs $97.95 and is available from the Avid Store.