BioWare and Electronic Arts (EA) on Tuesday announced the release of Dragon Age II for multiple platforms, including Mac OS X. It costs $60.
[ad#Google Adsense 300×250 in story]The sequel to the hit 2009 role playing game, Dragon Age II is set in the same fantasy realm as its predecessor. This time you take the role of Hawke, a refugee of a village destroyed by the demonic Darkspawn who eventually rises to become the mighty Champion of Kirkwall. You determine Hawke's gender, their attributes, and the key decisions you make affect how the game unfolds, in classic BioWare style.
BioWare is legendary for its role playing games for the PC and console. The company authored the popular Baldur's Gate games, along with Mass Effect and others.
The game spans a decade, and sports major graphics and underpinning engine enhancements, new combat mechanics, and a new visual style.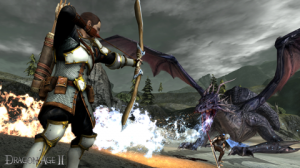 This marks the first time a BioWare game has been available simultaneously for the Mac. Speaking to Macworld, BioWare editor Daniel Lazin said many people at BioWare are Mac users and wanted to be able to play the game themselves from day one.
In addition to purchasing the game for Mac or PC on the same DVD, you can also download it. TransGaming, the company that collaborated with BioWare to produce the Mac version, is selling it from their GameTree Mac download service.
System requirements call for Mac OS X 10.6.6 or later, Intel Core 2 Duo 1.86GHz or faster, 2GB RAM or more, 9GB hard disk space, ATI HD2600, Nvidia 9400 or better graphics card with at least 256MB VRAM. Intel GMA, Nvidia 7×00, AMD 1×00 and AMD 2400 graphics not supported.