"The iPad is not an iPhone," said Graeme Devine during a conference session at this week's Game Developers Conference (GDC) in San Francisco. It may seem obvious to some, but Devine thinks it's important to underscore for game developers who are creating titles for Apple's tablet.
[ad#Google Adsense 300×250 in story]"Many people take their fabulous iPhone game and upsize it, and they're done" Devine explained. And this is precisely the wrong thing to do. "They don't think about the difference in the device."
Devine's reputation is legendary. He co-founded game maker Trilobyte and created titles like The 7th Guest and The 11th Hour, ghost story adventure puzzle games. Later he joined Id Software and worked on Quake III Arena. Devine even did a stint at Apple, working on iPhone games in 2009 and 2010. He's since returned to independent game development, starting GRL Games in late 2010 to bring games to iOS and Mac OS X.
Don't just upscale graphics
This isn't a mistake that rookie game developers make – even seasoned, large iOS developers have dropped into the unfortunate habit of simply scaling up the graphics in their games but leaving interface and other game elements untouched – and from Devine's perspective, this is a huge mistake.
"When we play a game on the iPhone, we hold it with both hands," he said. Gamers tend to work the phone with their thumbs. The iPad, meanwhile, offers a different use case. "You hold one hand behind, and use one to play the game."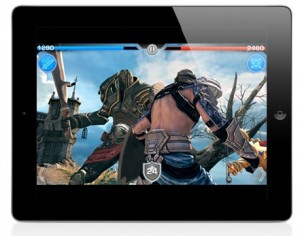 "If you want people to be comfortable playing [your game] for more than 30 seconds, you have to think about how they're holding it."
Another mistake Devine has seen is in porting games from the desktop to the iPad. "It's not as easy as it first appears to be," he said. Devine pointed to Apple's own iWork apps for iPad as an example how to do it right.
"It's very easy to have a dozen bad ideas right away," said Devine. But in the case of iWork apps, Apple has retooled them to take advantage of the iPad's touch-based interface. Devine observes that users utilize a different part of their brain to activate actions on the iPad by swiping their fingers across the screen, rather than pointing and clicking.
Leveraging the iPad's strengths
Devine highlighted some games and software toys for the iPad that he thinks have really gotten the mix right. Let's Create Pottery HD is a particular favorite of the Devine family, he said – it's an entertainment title that lets you spin a pottery wheel, and it makes innovative use of the iPad's accelerometer.
"The accelerometer made a tremendous difference," he said. "That little tilt made it that much more interesting and real."
Labyrinth 2 HD similarly uses the iPad's accelerometer to let users tilt the game board. And Real Racing HD lets you use your iPad as a steering wheel, tilting the device in your hands as if you were gripping a real wheel. (Real Racing's developer, Firemint, is presently working on an HD version of the sequel, Real Racing 2, optimized for iPad.)
Best practices
"Playtest as quickly as possible," said Devine. It's important for developers to make apps playable within a couple of days and get it into tester's hands to find out what works and what doesn't.
"Consider the overall app experience," Devine opined. Make sure to offer a robust game-saving feature, since iOS gamers tend to play quickly in short bursts of a few minutes, and make sure the app launches quickly.
Devine also stopped for a moment to rant about the trend towards virtual joysticks and "d-pads" on iOS games. Mirroring comments from "Infinity Blade" maker Chair Entertainment's Donald Mustard, Devine said of games with virtual joystick interfaces, "You are saying my game is better with a joystick. The iPad doesn't come with a joystick…you might as well go make a game for a platform with a joystick."
Reality is way overrated
"We strive to make games real looking with textures and lighting and so forth," said Devine. But that isn't necessary for many popular games. "You're not seeing a lot of realistic shadows in Words With Friends or Angry Birds."
"Build what is necessary and build no more," said Devine. "Reailty is way overrated."