Lighter, thinner, and way faster – that's the iPad 2 in a nutshell. Following Apple's iPad 2 announcement, the company invited the assembled throng to actually get their hands on one ahead of the March 11th release to the general public.
[ad#Google Adsense 300×250 in story]Steve Jobs said that Apple completely redesigned the iPad 2, but it is still unquestionably an iPad. The length and width are the same, but it's thinner – 33 percent thinner, now measuring less than an iPhone 4.
The iPad 2 is lighter, too, by about 3 ounces – and that actually makes a significant difference, especially for travelers who carry their iPads on their backs or in messenger bags.
The combination of thinner and lighter make the iPad 2 feel as different in your hands from the original iPad as the super-slim iPod touch feels from the iPhone. The differences aren't quite that pronounced, but the iPad 2 feels so much more slim and light in your hands.
Despite that, The iPad 2 still made of a tough aluminum shell and feels every bit as solid and durable as its predecessor. And quite a bit more solid than many iPad 2 competitors.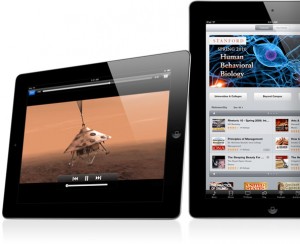 Two cameras grace the device, with placement similar to the iPhone 4. The lower-resolution camera on the front is suitable for FaceTime video conferencing and playing with Photo Booth and other applications, while the rear camera is capable of recording video at 720P resolution. Camera and video applications Apple demonstrated – Photo Booth and iMovie – support landscape and portrait orientation switching, just as you would expect.
Speculation that the iPad 2 would use a "retina display" or support a higher resolution than its predecessor turned out to be unfounded, and really, it makes sense – iPad apps won't have to be retooled to work on the new hardware.
Despite the rather significant cosmetic differences, the iPad 2's real difference is under the hood – a dual-core A5 processor that is up to twice as fast. Applications launch faster, files save snappier, and graphics performance is way up – by up to 9x, according to Apple, though I couldn't get a straight answer on what exactly that meant.
Ironically for iPhone 4 users who have long awaited widespread availability of the white iPhone 4, the iPad 2 will indeed be available in white (and black) from day one. Many white models were on display, and they look quite nice; while they're still made of glass and aluminum, the white bevel around the screen complements Apple's MacBook and iMac lines.
I am a bit disappointed to see the iPad 2 not get any sort of improvement in storage capacity – it's still limited to 16, 32 and 64GB models (with or without 3G connectivity, either through AT&T or Verizon in the US). That still makes the iPad 2, at least for me, less than ideal when it comes to synchronizing all my media files and many apps.
Having said that, Apple's support of Home Sharing and improvements to AirPlay do take the edge off this a bit – those functions will let the iPad stream content from a Mac elsewhere on the household Wi-Fi. Once you're out of the house, though, you're back to limiting yourself to what your iPad can carry.
I suspect that the original iPad still has a lot of life left, given that it will run iOS 4.3 and, presumably, other major updates, and it is for now the target for so many iOS developers. But with the iPad 2's price the same as before, there can be very little doubt that the iPad 2 will be a hot seller, both for existing iPad users looking to get the latest hardware and for consumers new to the tablet market all together.