I've been using Pro Tools since version 7.0 and have run into the same issues that most other users have. However, Pro Tools 9 is a solid piece of software that is definitely worth the upgrade.
[ad#Google Adsense 300×250 in story]We started to see some changes in Pro Tools with the release of version 8. Stability was a bit better, the user interface took a huge leap forward and new features made it easier to complete common tasks.
Pro Tools 9 was a massive step forward, not only for Avid, but for users too. No longer do we have to pay extra for MP3 export or OMF/AAF import and export. These features are now included by default.
One of the biggest thing for me was the ability to use third-party interfaces with Pro Tools. With the latest version, you can use any core audio compatible interface with Pro Tools — just plug in and go.
That sounds pretty easy and to be honest, I wasn't so sure if it would work as advertised.
Among the many audio interfaces in my studio, I have two Mackie 1640 mixers setup all the time. I have 12 mics coming from the drum kit, one from the guitar amp, one for the bass and a vocal mic.
The Mackie's connect to my Mac Pro using FireWire and are ready to use with any DAW. Now, that also means Pro Tools 9. Setting up Pro Tools to use the Mackie mixers was as easy as choosing it from the drop down menu. It connected and worked right away.
To be honest, I thought there would be an error or something that would go wrong, but it didn't.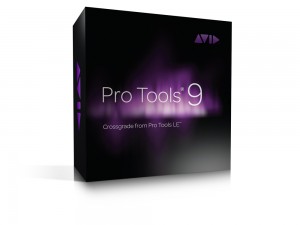 The first day I installed Pro Tools 9, the drummer came over and we sat down for a jam. I record armed all of the drum tracks and my guitar amp, clicked record and jammed for a little over an hour without looking at Pro Tools again.
When we were done, Pro Tools was still recording. It didn't hiccup a single time. Considering Pro Tools is a high-end DAW, it shouldn't falter, but after adding third-party interface support, I thought it would.
In the past couple of months, Pro Tools 9 has not crashed once. All of my plug-ins run perfectly and I get all of the extra features included with the new version.
Life under Pro Tools 9 is good.