Apple recently began contacting MacBook Air owners, asking them a series of questions about syncing and 3G data usage.
[ad#Google Adsense 300×250 in story]While the the survey asks questions like "What would you change to make your MacBook Air your primary Mac?" and "How do you typically sync your data?" the questions that are raising eyebrows are about 3G data, according to AppleInsider.
Apple asks, "In general, what would cause you to use a 3G connection instead of a wireless connection?" "What type of 3G connections do you use for your MacBook Air?" "How often do you use 3G with your MacBook Air?"
There is no doubt that the MacBook Air would be the perfect computer to host a built-in 3G connection. It's portable, lightweight and appeals to a wide range of people that could benefit from such a feature.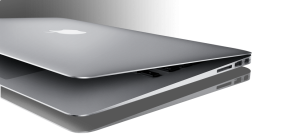 The MacBook Air was last updated in late October and is available in two primary configurations – an 11.6 inch model starting at $999 and a 13.3-inch model priced starting at $1299.
The device is smaller and lighter than its predecessor, and features improved battery life and features carried over from the iPad, thanks to its reliance on flash-based storage rather than a conventional hard drive and hard drive interface.