Gamers looking for a serious smartphone may be interested in Sony Ericsson's newly unveiled Xperia Play, a Google Android-based phone that will be hitting store shelves in the US in March, via Verizon Wireless.
[ad#Google Adsense 300×250 in story]The new device is built on Android 2.3 "Gingerbread," and sports a built-in game controller shaped not unlike a Sony PlayStation controller. Fitting, since the Xperia Play is the world's first phone to be PlayStation-certified.
Most gamers got their first hint of the Xperia Play during a rather unsettling Super Bowl ad that depicted a Google Android getting backalley surgery to have thumbs grafted on its arms. Sony Ericsson's official unveiling of the device occurred in Barcelona, Spain, during the Mobile World Congress (MWC) event, where the Xperia Play was unveiled along with several other new Sony Ericsson smartphones.
Under the hood is a 1GHz Qualcomm Snapdragon ("Scorpion") microprocessor (which uses the ARMv7 instruction set) and embedded Adreno graphics processing unit (GPU). The device features a 4-inch 480 x 854 pixel multi-touch display and five megapixel digital camera, A2DP Bluetooth support, robust social media connectivity through Android Market apps and with built-in software, support for Adobe Flash Litem support for Google services including Google Sync, and more. Storage is enhanced using a microSD card slot (an 8GB card is included).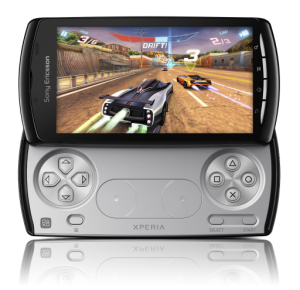 Arguably the centerpiece of the phone is its a slide-out gaming control, however. The control features a digital D pad, two analog touch pads, two shoulder buttons (bumpers) and the classic four PlayStation icons: circle, cross, square and triangle.
Sony Computer Entertainment and leading game publishers including Electronic Arts (EA), Gameloft, Glu Mobile and others are providing titles for the new device. Sony counts 20 publishing partners at launch with more than 50 games expected to be available. Examples of games coming for Xperia Play include The Sims 3, Dead Space, Guitar Hero, Battlefield and many others.
Games will be available for download on the phone using a pre-loaded application that will identify and provide access to titles that have been optimized for play on Xperia Play devices.
The Xperia Play should offer some interesting challenge for the iPhone. So far, Android phones haven't really made an impact with gamers – neither the available handsets nor the Android Market have really distinguished themselves as game-friendly environments, and outside of predictable hits like Rovio's Angry Birds, there really haven't been any games that have set the Android world on fire.
Will the Xperia Play change that? Possibly. But one interesting side note: Sony noted that the Xperia Play is the first phone to receive PlayStation certification, but added that PlayStation certification is available to other Android devices. It's conceivable that we'll see many other Android-based phones emerging with enhanced gaming capabilities in the future.