Steve Jobs may be on medical leave but Apple's CEO is still involved in the decision making at the company.
[ad#Google Adsense 300×250 in story]Citing two sources, the Wall Street Journal says "he is continuing to work on are the next version of the iPad tablet computer, expected out in the next couple of months, and a new iPhone, expected to be released this summer."
Jobs is said to be taking business meetings at home and on the phone.
"Steve is the CEO of Apple and during his medical leave he'll continue to be involved in major strategic decisions," said an Apple spokeswoman.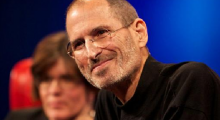 In mid-January, Jobs announced he was taking a leave of absence from Apple to focus on his health. Tim Cook was put in charge of the company's daily operations until Jobs' return.
Earlier this week, reports surfaced that Jobs was seen on Apple's campus after his leave was absence was announced.