Apple's iPad 2 is now in production and will have a number of new features, including a front facing camera.
[ad#Google Adsense 300×250 in story]Citing "people familiar with the matter," the Wall Street Journal on Tuesday said the new iPad will also include a faster processor. The report said that with the camera and more powerful hardware, the iPad will have features like video conferencing included.
One of the features that many people wanted in a new iPad was a high-resolution or Retina display. According to WSJ sources, that won't happen with this version.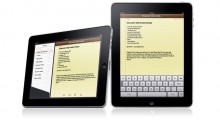 There doesn't appear to be anything new in the WSJ report. If Apple sticks to its current schedule of releasing an iPad one year after its debut, like it does with the iPhone, it makes sense that it's in production by now. Having a faster processor and front facing camera are also not new — we've been hearing about those features since the first iPad was released.
The new device will apparently be sold through Verizon, AT&T and of course, Apple.
The report didn't know the price of the new iPad or exactly when it would be released.