Dell is not exactly firing on all cylinders these days as it discontinues another product that was to compete with Apple.
[ad#Google Adsense 300×250 in story]The latest casualty in Dell's product line-up is the Adamo, a smaller notebook designed to take on Apple's MacBook Air. Needless to say, it didn't do so well.
The Adamo started selling in 2009 for around $2,000, according to CNET, but the latest models were selling for $799. However, not even steep discounts could save the computer from the junkyard.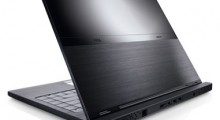 The Adamo isn't the first time Dell released products to compete with Apple. They had MP3 players to compete with the iPod, computers, and most recently tablets that are designed to compete with Apple's iPad.
Given Dell's track record, the Dell Streak tablet should be discontinued any day now.