Why do you take photos? For what reason or purpose?
I take photos to capture moments in time. But to also share those photos among friends, family and listeners of Your Mac Life. And there are many different ways to share them.
[ad#Google Adsense 300×250 in story]The most obvious is to use your iDevice to show them off. It's a bit of a PITA to get photos from your camera (if you don't use the iPhone's camera) to your iDevice but not impossible. I find the easiest thing to do is simply email them to myself — I have a separate email address that only gets used on my iPad and iPhone. The photos are then saved to the Photos app in the iPhone or the iPad and are very easy to show off individually or through a slideshow.
The next favorite way I share photos is through the iPhone. Even though the iPhone is only an average camera, it's very good at allowing you to take photos and very quickly and simply send those photos to various places on the internet.
One of my favorite is the free TwitPic.com. When you sign up to TwitPic, they assign you a dedicated email address. Any photos sent to that address get posted not only to your TwitPic page but also posted/linked to on Twitter. In your email app, the Subject Line becomes your Tweet. Very fast and very convenient.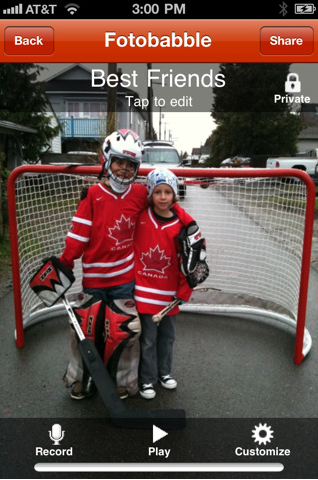 Another method I use is Fotobabble.com. Fotobabble describes itself as "talking photos." It's a free iPhone app that lets you take photos from the app or choose photos from your camera roll. You give the photo a title and then click the "Record" button. You then have 60 seconds to add audio commentary to the photo using the iPhone's internal mic. The app then uploads the picture to their web site and lets you post it to Facebook, email it or post a link to it on Twitter. I used it during this past Macworld Expo and really liked the results, even on a noisy Exhibit Hall floor. It's a different and fun way to share and add context to your photos.
My next most popular way to share photos is using Flickr. Flickr has been around for many years and is one of the easiest ways to allow family and friends to see your photos. It can work like TwitPic by giving you an email address that you send your photos to and they get included on your Flickr page or you can use any number of uploading tools to post to Flickr.com. It also allows you collate your photos into groups called "collections" and "sets". You can make your photos private so that only certain people can see them and even sell photos from your pages if you have a Flickr Pro account (cheap at only $25/year). Flickr even has any number of ways to turn your photos into physical objects.
People can "favorite" your photos, comment on them, make notes, etc. making Flickr a real "photography social media" site.
Another way to share your photos is by having them printed out, by services such as Snapfish, or by using your own home printer. I love looking at photos in a physical medium, whether printed off on your own photo printer or seeing them hanging on a wall in a gallery. There's something "important" about photos in the physical world.
Several companies make good photo printers but Epson is the leader among pros. They offer several models of printers, all the way from inexpensive 4 x 6 printers up to monsters that will print 64-inch wide. I have an Epson R1900 that, with little effort on my part, prints grogeous borderless photos to 13 x 19 — and it can go even longer.
Ironically enough, it's almost too big to print off 4 x 6 prints for family and friends. For those, I use a little Epson PictureMate Charm Compact Photo Printer that does a wonderful job.
And finally, for those really special shots or for a great gift, take a look at the services that offer to print your photos to canvas or ask your local camera shop if they provide that service. The canvas gives the photo a "painterly" look and, because there's no frame, it looks like the photo is floating on your wall. I had it done with one of my photos and love the effect.
How do you share your photos? Let us know in the comments section and – keep shooting!
Shawn King is the Host of Your Mac Life and teaches beginning digital photography classes. Shawn has been told he "has a good eye". He thinks it's the left one.