The Women's Audio Mission on Monday said it would hold a panel at the upcoming South by Southwest Music Conference and Festival.
[ad#Google Adsense 300×250 in story]A non-profit organization dedicated to the advancement of women in the recording arts, Women's Audio Mission will have a number of high profile guests on the panel.
"This is such an amazing group of GRAMMY winning engineers and producers, who just happen to be women, on this panel," said WAM Founder/Executive Director Terri Winston.
Dubbed "Women in the Recording Studio" the panel will feature WAM Founder/Executive Director Terri Winston; Trina Shoemaker (Sheryl Crow, Emmylou Harris, Queens of the Stone Age); two-time GRAMMY winner Sylvia Massy (Tool, Johnny Cash, Red Hot Chili Peppers, REM); Ann Mincieli (Alicia Keys, Mariah Carey, Usher, Jay-Z, Drake); and GRAMMY winner Emily Wright (Katy Perry, Ke$ha, Kelly Clarkson).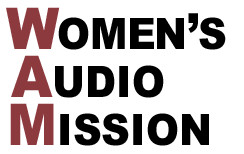 According to Winston, the panel will discuss "tips, techniques, and favorite gear used on these projects and in professional studios, as well as talking about how musicians should prepare for sessions, how to find the right engineer/producer and the advantages of a studio environment."
You can find out more about the Women's Audio Mission from their Web site.