Apple's iPhone isn't available on Verizon yet, but it's already causing grief for competitors.
[ad#Google Adsense 300×250 in story]During its fourth-quarter conference call on Wednesday, Sanjay Jha, the CEO of Motorola Mobility, admitted the company has seen a slowdown in Droid sales since the iPhone was announced.
"Since the announcement of the iPhone, we have seen a little slow down in our sell through of devices at Verizon," said Jha. "There was anticipation of devices coming to Verizon even prior the announcement of the iPhone."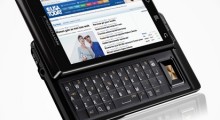 Motorola said it shipped 4.9 million smartphones during the quarter.
The company's financial prospects don't look as good as Apple's either. Motorola expects to post a $26 million loss in the first quarter of 2011.