Apple's iPhone users are the most loyal to their product, according to a new survey conducted by market research firm Zokem.
[ad#Google Adsense 300×250 in story]The survey, which was conducted among U.S. mobile users, shows that iPhone customer loyalty ranking is 73 percent. That in itself is a great number, but it gets better. Apple's closest competitor is Google and they have a loyalty ranking of 40 percent.
That means that Apple has an 84 percent higher loyalty ranking than Google. Things just get worse for Apple's competitors from there.
Following Google is Samsung (33 percent), RIM (30 percent), Symbian (24 percent), Windows Mobile (10 percent), Palm Pre (10 percent) and the Nokia Maemo (-36 percent).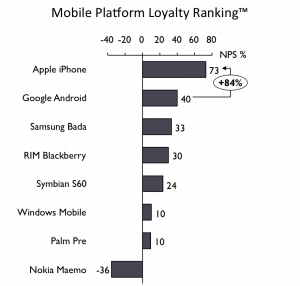 Apple also has the lowest churn rate — or customers intention to buy a competing product — among smartphone owners. Apple topped the chart with a 29 percent churn, with Google following in second place with a 44 percent churn.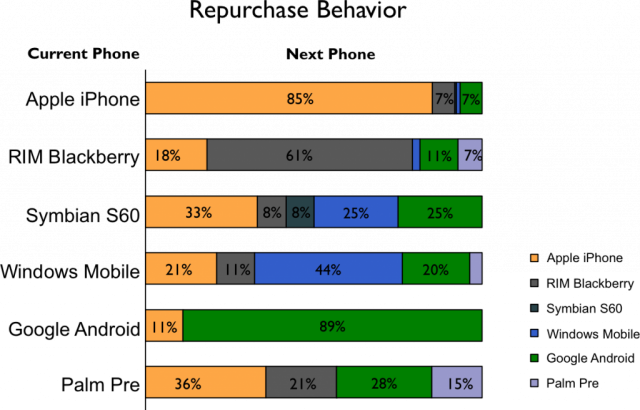 The study shows that Google is highest among users that plan to purchase the same device with 89 percent who plan repurchase. Apple comes in second with 85 percent of its users who will purchase the same device.
It is important to note that this survey was done before Apple's announcement that the iPhone would be coming to Verizon. There is no telling how much pent up demand there is and how that would affect these results.
Update: Fixed the end of the story to show that Google has a higher ranking of repurchase than Apple. 11:22 am PT