Within the first 24 hours of the Mac App Store's public existence, there have already been thousands of words posted on the blogosphere about it – tech pundits dissecting and examining it, finding it lacking, hating it, loving it, whatever. There's never a shortage of commentary when Apple introduces a new product, and the Mac App Store is no different.
[ad#Google Adsense 300×250 in story]What none of these experts – these self-appointed arbiters of what's hot and what's not in the digital realm – seem to have acknowledged is that the Mac App Store is, by and large, not for them.
Technical sophisticates who have had Macs for a while and who spend their days living online can find software easily enough – there are plenty of online shops, individual vendor Web sites, software tracking resources, news sites and other ways to figure out where you can get Mac software.
The Mac App Store, which launched with a respectable 1,000 applications or so, from Apple and third parties, isn't for mainstream users. It's for the millions of other Mac users who don't make being a computer geek either a hobby or a profession.
For them, the Mac is simply an appliance – a way of getting things done. Sending e-mail, visiting Web sites, maybe organizing photos. Creating a database, if they're feeling ambitious, working on some school or work projects, balancing a checkbook.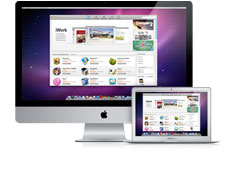 For those folks, the Mac App Store provides a tightly integrated, clean, Apple-sanctified method of downloading software. A system many of them are already familiar with, having owned iPhones or other iOS devices and having already used the iTunes Store.
But what early adopters think of the Mac App Store is ultimately irrelevant. This new service will live or die based on how it's used by the millions of new Mac owners who fire up their computers for the first time and click on the Mac App Store icon in their docks.
So I'm sure we'll continue to see a steady stream of critiques telling us what's wrong with the Mac App Store and what Apple absolutely, positively has to fix. And in the interim, the floodgates have opened and new customers will continue to stream in, buying and downloading applications just as they have (more than one million in the first 24 hours, according to Apple).