Many people are hailing 2011 as the year of tablet. Actually, that's not quite true — 2011 is the year that everyone tries to catch Apple.
[ad#Google Adsense 300×250 in story]In fact, 2010 was the year of tablet — it has come and gone and Apple has an overwhelming lead. For the latter part of 2010 most PC manufacturers busied themselves with ways to catch Apple before they got completely out of reach.
When it become obvious that there wasn't a quick and easy solution, companies like RIM announced a product, said it was better than the iPad, but didn't release anything.
The 2011 Consumer Electronics Show is just filled with half-baked solutions. Motorola, Lenovo, Toshiba, Microsoft and a number of other companies are showing off their tablets.
However, nothing seems to be gaining any traction. Take a look at this comment from analyst Michael Gartenberg on his Twitter feed from CES.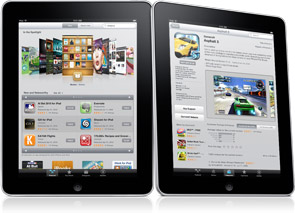 "I have seen nothing so far at CES that I'd call an iPad killer. I've seen nothing so far that would give iPad a minor case of the sniffles," said Gartenberg.
How about this from Brian X. Chen from Wired:
"Saw a Lenovo tablet last night running a modified version Windows 7. Looked like ass."
The tablet has been around for years but nobody has been able to popularize it, until now. Apple took the tablet and made the market. That's a simple and bold statement, but it's true.
Everything coming out now is being compared to the iPad and most companies are making their tablets resemble the iPad in form, functionality or both.