Chair Entertainment's hit game Infinity Blade stands apart from other offerings on the App Store: it's the first iOS game built using Epic Games' Unreal Development Kit (UDK) for iOS. The UDK has been used extensively in PC and console game development, but iOS is the first mobile platform to get the UDK treatment. The software's creators are hoping this will lead to a new generation of more intense, console-quality entertainment for the iPhone, iPod touch and iPad.
Unreal Development Kit for iOS
[ad#Google Adsense 300×250 in story]"Our goals and expectations were to make a great game that we really think is fun to play, one that shows off the technology," explained Mark Rein, vice president of Epic Games, the company behind the UDK technology. "This is the first game that I can see on the iPhone that pushes the bar up as a complete game. We're really happy with it."
Epic's UDK for iOS is hardly the only game engine available for iOS – other companies have also stepped up to the plate to make it easier for game developers to deploy on iOS along with other consoles. But Unreal Engine has been used to make hundreds of games for PC and console over the years. Bioshock, Borderlands, and Epic's own Gears of War series stand as examples.
Don't count on those big-budget games coming to iOS right away, however. Rein called such an effort "economically unviable," but he envisions a near future where the iOS market and hardware capabilities have grown to a level where such a game is possible.
"We came into this for future devices," explained Rein. "What excites us most is how these devices seem to double performance every year. This is just the tip of the iceberg. We're just getting started."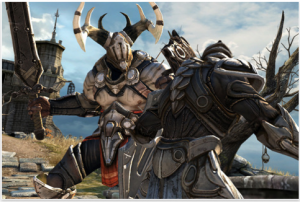 The UDK has a very low barrier to entry – the software is available for free download from Epic's Web site, and can be used by any developer to create games or applications for educational and non-commercial purposes. If developers want to use it commercially, they pay Epic a $99 license fee and a percentage of sales. Epic has also released free "UDK Remote" app to help developers manage input features from an iOS device connected to their computer.
One warning for Mac-centric developers, however – the UDK is entirely Windows-based. "You need a Mac to talk to send the game to the store," said Rein, but all testing and building is done from Windows.
Infinity Blade
Infinity Blade is a fantasy-based action role playing game that pits you against the God-King and his legion of armor-bound Titans in a series of epic swordfights. Designed from the ground up for the iOS, Infinity Blade uses swiping commands to control the on-screen action. Players can loot to acquire more content to help build the stats of their character, and new content and features are being added to the game as well.
Epic's own in-house development studio Chair Entertainment created Infinity Blade. Creative director and co-founder Donald Mustard explained how.
"We were able to make Infinity Blade in five months using a team of 10 developers," Mustard said – a modest proposition, he said, given the scope of the game. "The advantage of using Unreal Engine to make a game like this is that it saves you years of work – you spend your development time creating a fun game as opposed to creating underlying technology."
Even before its release, Infinity Blade has distinguished itself for its incredible visual fidelity. Shortly after introducing the game during an Apple press event in October, Epic gave gamers a taste of what was to come with the release of "Epic Citadel," a free tech demo available for download from the App Store which showed off the core engine used in Infinity Blade.
While Chair Entertainment is now an in-house development studio owned by Epic, it started out as an independent developer. Mustard said that early on, Chair made a commitment to use Unreal Engine technology to make its games.
"One thing that separates Unreal Engine is that it's really friendly for artistic people. It makes really beautiful graphics if you have the ability; the engine will really show that off."
Mustard's excited about seeing what other developers can do with the UDK for iOS, as well. "It elevates the whole market," he said.
The App Store experience
Chair Entertainment already has experience with digital distribution, having released games for the Xbox 360 through its Xbox Live Arcade service. He said that releasing a game on the App Store is different.
"When you're dealing with a console, there are a lot more certifications and technical requirements," Mustard explained. "There's a lot less of that on iOS. This is an advantage because it puts the testing requirement on the developer. We can also update our app as frequently as we want or need to."
Mustard said that to update a console game with additional content or changes is a "lengthy and costly exercise."
"Whereas on the App Store, we can have a big content update with fewer issues. We're adding more content, more enemies, multiplayer capabilities," Mustard said.
"This helps us keep the price of the game at $5.99. Content gets added for free, because word of mouth helps keep sales up. It keeps getting better and better," Mustard explained.
Early press reports indicated that Infinity Blade sold well, with north of a quarter million sales in its first week, grossing more than $1.6 million in sales.
"We've been thrilled with the success so far," said Mustard. "There are not a lot of measurable metrics [for iOS game sales]. We didn't know what to expect."
Rein wouldn't confirm the report, but instead offered this tidbit: "It's sold more than people think it sold."
With the release of Infinity Blade and the UDK for iOS, Rein has a simple proposition for game developers. "The tools are there and they're free to try. Visit our Web site, check out our tutorials, come to our community forums and get involved."
Mustard speaks straight from the heart, one developer to another. "You have limited resources. You can either focus on making technology or focus on making a fun game. Making fun has worked out very well for us."