I've done quite a few stories rounfing up some of the best apps for occasions like Halloween and Thanksgiving, so I thought it was time to focus on one of my true loves — guitar.
[ad#Google Adsense 300×250 in story]As we get closer to the holidays, there are some items you can look for that don't cost a lot of money, but the guitarist in your life will just love. I've been playing around with guitar apps since they first started coming out and thought I'd share a few of my favorites.
It's important to remember the apps I'm listing here are not games. I'm sure there are a lot of great games for guitarists, but these apps are meant to help guitarists get the most out of their guitars and iOS devices.
So, in no particular order, here are the apps that I recommend you buy for your favorite guitarist:
AmpliTube: Available for both the iPhone and iPad, IK Multimedia brought its amp and effects modeling software from the Mac to Apple's iOS devices. IK did a great job with the software, giving guitarists great tone. You can also buy the iRig adapter (sold separately) from IK's website.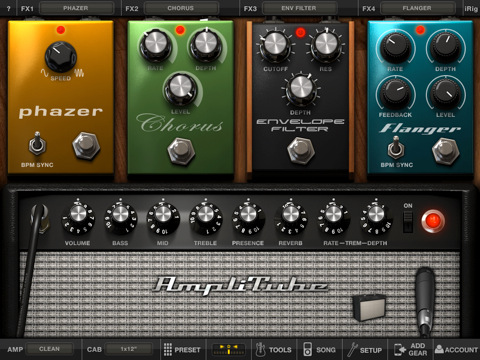 AmpKit+: Just recently available for the iPhone and iPad, AmpKit+ is another premiere amp and effects modeling software package. This app gives you the option to purchase many Peavey amp models from within the app. You can purchase the AmpKit Link separately. ($19.99)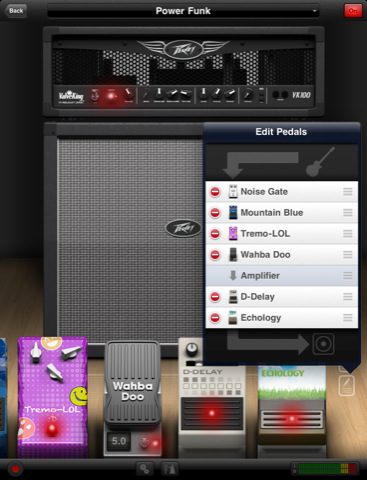 TabToolkit: This is probably one of my most used guitar apps. You can download tabs and play them, allowing you to figure out songs while on the go. I do this quite a bit and then practice the songs when I get home. ($9.99)
FourTrack: Developed by Sonoma Wire Works, FourTrack is the app every musician needs if they want to record on their iPhone. It has a ton a features like latency compensation, Wi-Fi sync, audio copy and paste, input monitoring and much more. ($9.99)
Taylor EQ: I love Taylor acoustics. This app allows you to enhance the sound of your guitar using presets designed by the folks at Taylor guitar. The presets complement Taylor's body styles, but you can make whatever adjustments you want to configure the tone. (Free)
Guitar World Lick of the Day: Every guitar player I know loves watching someone play a good lick. Guitar World recognized this and released an app that allows you to subscribe to get licks everyday in a variety of genres, played by some of the greatest. (Free to download, subscription required)
Gibson Learn & Master Guitar: The Gibson Les Paul is my favorite electric guitar ever made. It's not a big surprise to see Gibson enter the iPhone market and they did so with a nice app too. The Gibson app features a tuner, alternate tunings, a chord library and much more. (Free)
Cleartune: The only person in a jam that doesn't see the sense in having a tuner is the one that's always out of tune. Enough said. ($3.99)