'Tis the season — to stress out about getting the perfect gift, for the perfect someone. Or even yourself (it's been a tough year, go ahead and treat yourself!).
[ad#Google Adsense 300×250 in story]But I'm here with good news — if you are or know a beginning photographer, there is no one easier to shop for. There are plenty of gift ideas that will fit any budget.
The obvious choice is a new camera. The key in buying a new camera for someone is knowing what they would like to do. If they, like The Loop's Publisher, are perfectly happy with the camera they have, there's not much point in upgrading them.
If your giftee doesn't already have one, consider buying them an iPhone. It can easily replace any under $200-$300 point and shoot camera and does a lot more than any low end camera.
If you are going to upgrade someone's point and shoot (P&S) camera, sneak a peak at the one they have and see if you can spot some features that you can mention at the camera store to help make a decision. But, if their camera is more than 2 years old, odds are you can buy any camera with at least 3x optical zoom and 10 megapixels and it will probably be better than the one they have.
It's hard to recommend specific cameras but I really like the idea of the Samsung TL210 DualView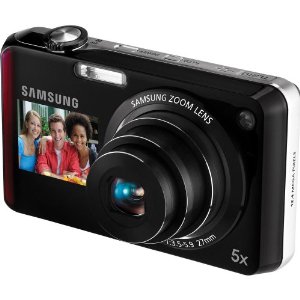 especially if you have a teenager who likes taking photos of themselves and their friends. It has a screen on the front that makes those arm's length shots much easier to capture.
For teens like The Loop's Publishers daughter who are hard on their gear, I recommend either the Panasonic Lumix DMC-TS10 or the Olympus Stylus Tough 6020. Both are tough, go anywhere little point and shoots that are designed to take some of the abuse your kids can dish out.
When it comes to DSLRs, I wouldn't recommend "surprise" gifting one unless they have specifically asked for it. There are too many options and too much of a learning curve for DSLRs.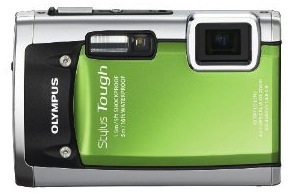 If they have a DSLR a new lens can be a fun (if sometimes expensive) gift. Look for cheaper, used lenses at your local camera store (make sure they have a good return policy). If you really want to buy your favorite beginner a fun, inexpensive lens, in particular if they own a Nikon or a Canon DSLR, I always recommend a great deal on Amazon.com – either the Nikon 50mm f1.8 or the equivalent Canon 50mm lens. At around $100, you get a new, different lens than the kit lens of most DSLRs and it's a great way for a beginner to get outside their comfort zone and learn how to shoot better photographs.
A tripod is also a great gift for the beginner. Even though some tripods can cost several hundred dollars, there are lot of decent $50-$200 tripods available. Biggest thing to look for in tripods is lightweight and how easily the "head" or top of the camera swivels and moves. Tripods are great for group shots but they are also indispensable for night shooting or long exposure shots.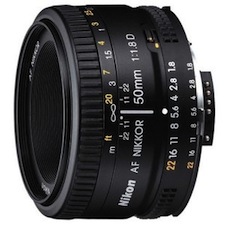 The folks at Joby have come up with a bunch of smaller, low cost mini-tripods for any camera, even video recorders. For as little as $15, you can get a fun little Gorillapod for your point and shoot.
If you like learning from books, there are all kinds of photography related ones at your local book store. For those who have camera that has settings for Aperture, Shutter, Manual, etc, I can't recommend highly enough Understanding Exposure by Bryan Peterson. It is one of the few books about photographic technique that doesn't dissolve into headache inducing gobbledygook writing.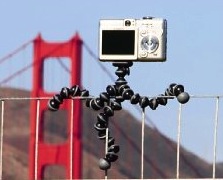 If you can stand his goofy jokes (I can — barely), Scott Kelby writes some very good, non-technical photography books guaranteed to help anyone take better photos. I recommend the The Digital Photography Book series.
For a book that is less technical but no les interesting, Joe McNally's "The Moment It Clicks." Part tips and tricks, part travelogue, part discourse on the nature of photography, Joes is a very conversational writer and an amazing photographer.
Is your favorite photographer a bit more into gimmicks and gadgets? One of my favorite sites for interesting, sometimes quirky ideas is Photojojo. They've got camera lens coffee mugs, spy lenses, fridge magnets, inflatable frames, etc. Fun site!
Speaking of fun websites, do you or your photography friends like to show off their pictures? One of the easiest ways to do it is to use any number of "photosharing" web sites. My site of choice is Flickr. It's free to use but for a $25/year fee, everything on Flickr gets upgraded — uploads, storage, sets, etc.
Every photographer, especially one who has had their camera a couple of years or more, can use more memory cards. Cameras sold two years ago came with relatively small memory cards and most photographers can always use a couple more. I recommend against buying them in sizes over 4GB though — better to buy two 4GB rather than one 8GB card (Do you know why? Answer in the comments section of this article). Before buying though, make sure you know what kind of cards fit your photographer's camera.
Another great gift for your favorite DSLR owner is a way to easily carry and transport their camera. Most DLSR users will have a camera strap that came with their camera that allows the camera to hang from their neck in front of them. I've never liked that situation — the camera seems exposed and I find the strap gets in the way. If you can find it, the Luma Loop is my strap of choice. The company is redesigning the strap so it's no longer available on their web site but keep any eye on the site for the updated version. Or, buy mine so I can buy the new one of theirs. 🙂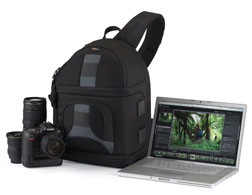 As for carrying bags, I swear by my Lowepro SlingShot 200 bag.
It can hold any size DSLR body, several lenses, lots of little things like business cards, memory cards, wallets, water bottles, and even a laptop. But the best part is the design allows you to quickly and easily get to the camera so it doesn't have to be constantly in your hand.
See, I told you it was easy to buy for a photographer!
Next week, we'll talk less about hardware gifts and more about software you can use with your iPhone, point and shoot and even your DSLR. In the mean time, what kind of photography stuff will you buy this holiday season? We'd love to hear your ideas in the comments section.
In the words of General Custer, "Keep shooting!" Wait, that's not right.