After hyping the arrival of something "that you'll never forget" on iTunes, Apple on Tuesday released the entire Beatles catalog. The thing is, not many people seem to care.
[ad#Google Adsense 300×250 in story]The Beatles are undoubtedly one of the great bands to ever record music. They have influenced most of the greatest songwriters of our time, from all genres of music, and continue to sell music, 40 years after they broke up.
Personally, John Lennon is one of my favorite songwriters and singers. That will never change, no matter what type of music I listen to or who the new big band is.
If this was 2005 and the Beatles came out on iTunes, I'd be so excited. But it's 2010 and we've been through so many false starts about the band coming to iTunes, it's kind of anti-climatic.
I have the Beatles material on album, cassette and CD. It's not that I need them from iTunes to complete my collection.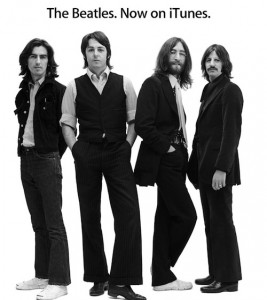 When Apple hyped the release on Monday everyone thought it had to be something more than the Beatles because we've known about that drama for years. Speculation of a streaming service, subscriptions and cloud storage soared, but none of it was true.
I guess most people expected more because Apple doesn't hype anything. They hardly hype the release of an iPhone or iPad, products that change the markets we live in today.
So, when Apple decided to hype the Beatles on their homepage, people reached for the sky and thought that if Apple was hyping it, this must be huge, game changing news.
It wasn't.
I'm happy the Beatles are on iTunes. I probably won't buy any of it because I don't need it four times, but I'm sure it will be among the top sellers on iTunes.
I can't wait to see what Apple does when AC/DC comes to iTunes.