IK Multimedia on Thursday released AmpliTube 2 for iPhone, the newest version of the companies amp and effects software for iPhone users.
[ad#Google Adsense 300×250 in story]There are a number of updates in the latest version of AmpliTube, some are free and part of the application, others are available via in-app purchase.
Among the free changes in AmpliTube 2 is a new one-track recorder with a re-amping feature. You can also export recordings as mixes and email them as MP3 files.
The sound quality of the cabs and other gear has been improved by using DSP from desktop versions of AmpliTube and T-RackS, according to the company.
IK added SpeedTrainer to this release allowing users to slow down or speed up imported songs without affecting the pitch.
Available in AmpliTube 2 as in-app purchases are a multi-track recorder with 4 tracks and master FX section with 3 effects: Reverb, EQ and Compressor. Five new stompboxes have been added to the app too — you can now purchase a Compressor, Reverb, Parametric EQ, Graphic EQ and Limiter.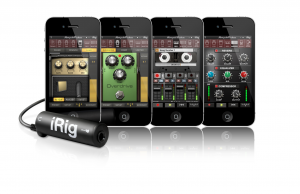 AmpliTube 2 for iPad is currently in development. IK said details would be announced shortly.
AmpliTube 2 costs $19.99 and comes with 11 stompboxes, 5 amps and cabinets, and 2 microphones. AmpliTube LE costs $2.99 and comes with 5 stompboxes, 1 amp and cab cabinet, and 2 microphones. AmpliTube Free comes with 3 stompboxes, 1 amp and cabinet, and 2 microphones.