Apple CEO Steve Jobs made several comments in the past few months that have angered competitors, most notably Research in Motion. But should Jobs just take his victories in silence and not comment about his competition?
[ad#Google Adsense 300×250 in story]I don't think so. It's refreshing to see a CEO stand up and be so confident in his company and products that he is willing to speak out. In fact, I wish more CEOs had that much confidence in what they are making.
Jobs is winning the war of words with competitors because consumers are buying Apple's products. Jobs is bringing innovative products to the market and everyone else is following his lead.
Some have said that Jobs' comments about RIM and other companies are not warranted, but if you look back on what those companies said about Apple, Jobs could be much harsher and still be justified.
For instance, when RIM co-CEO Mike Lazaridis was asked about the iPhone in March 2007, he smirked and said, "How much presence does Apple have in business? It's vanishingly small."
That's dismissive to say the least. Somehow, I don't think Lazaridis is smirking anymore.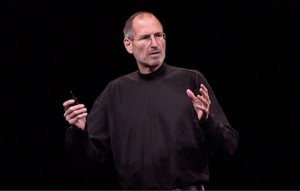 In fact, RIM is changing its mobile phones to mimic what Apple is doing. They also have an app store, to mimic what Apple is doing.
Apple just passed RIM in global smartphone shipments, as it shipped 15.4 million units compared to RIM's 12.3 million units. The smirk on Lazaridis' face has surely turned into a frown after hearing that news.
So what did Jobs say that has some people crying foul? During a press conference to explain the supposed problems with the iPhone 4 antenna, Jobs pointed out that other smartphones on the market suffer from the same problem.
Jobs demonstrated that the Blackberry Bold 9700, HTC Droid Eris and a Samsung phone, also suffer from the same antenna problem as the iPhone.
That is not mudslinging from Jobs, it's a fact. Jobs simply pointed out that other phones suffer from this problem. If Apple was making it up or rigged the demo movies, then I could see how people would be upset. However, it's fair game to bring up an industry wide problem.
Needless to say RIM didn't like the comparison.
"Apple's attempt to draw RIM into Apple's self-made debacle is unacceptable," said RIM's co-CEOs, Mike Lazaridis and Jim Balsillie, in a statement. "Apple's claims about RIM products appear to be deliberate attempts to distort the public's understanding of an antenna design issue and to deflect attention from Apple's difficult situation."
Jobs also made an appearance at Apple's fourth quarter conference call and made some statements about what the competition is bringing to the table for smartphones and some newly announced 7-inch tablets.
You can read comments from RIM and what Jobs said, but suffice it to say that RIM was not happy with Apple. Even when you read RIM's statement, you can hear the desperation. They can only come up with so many excuses.
I could even bring up Michael Dell's quote from 1997 when he gave his solution to fixing Apple.
"What would I do? I'd shut it down and give the money back to the shareholders,"
I suppose we could look at the innovative products that Dell released in the last decade and compare them to Apple's, but that hardly seems fair. I'm not even sure if Dell is still in business and if they are, they're probably selling the same old stuff.
Let's not forget Microsoft's lame iPhone funeral that it held in September. That was just kind of sad considering what Microsoft brings to the mobile space these days.
The things that have been said about Apple in the past are far worse then anything Steve Jobs is saying now, but somehow people think Jobs is being unfair in his comments because he now controls the markets that the other companies want to play in.
It's hard to compete against an innovative company like Apple when you have no innovation yourself. Good luck with that guys.