In the previous (and first) column in this series, I laid out who I was and what I thought this column would be about. In my mind, I had a plan for what I would write about, step by step, column by column.
And then The Loop's Publisher ruined all of that.
[ad#Google Adsense 300×250 in story](When I say "The Loop's Publisher", everyone knows I mean Jim Dalrymple. But they are two different entities to me. The Loop's Publisher signs the checks so I listen to him. Jim, not so much.)
But The Loop's Publisher asked a great question. "Is the iPhone a Good Point and Shoot Camera?"
I said it was a great question, but not an easy one to answer.
A guy named Chase Jarvis is building a career around a concept photographers have known for decades — the best camera is the one you have with you. There's no doubt that a $10,000 DSLR will take better pictures than your iPhone or your little point and shoot camera, but will you have it with you when you need to take the shot?
I asked on Twitter, "What are the pros of the iPhone camera?" and "It's always with me" was the number one asnwer. It's easy to have your iPhone with you 24/7 so for most of us, it becomes the "best" camera by default.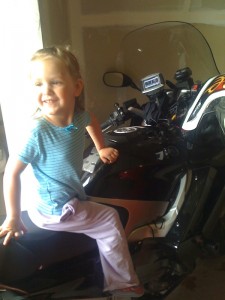 Take a look at the pictures on your iPhone now. Do you see a theme or a style? How about a situation? I tend to use my iPhone's camera to take pictures I want to immediately share with family and friends, either via email or Twitter. For example, I have a picture of my cute little niece, Emily on my motorcycle. It's not a great picture — low quality, blown out highlights, a little blurry — but it's a picture of a moment I thought was very sweet. But we were in a garage and the only camera I had handy was on my iPhone. Rather than miss the moment, I used what can be argued is not a good camera in that situation and took the shot.
Here's another example. Rather than dig around looking for my SLR or P&S, I quickly grabbed my iPhone and took a picture of this "Kitty Bookend".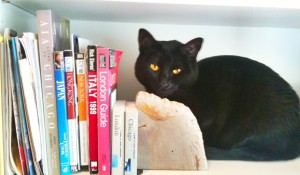 So, if the iPhone is the only camera you have on you, it automatically becomes the "best." But would I recommend buying an iPhone over a Point and Shoot?
It's rare that you would leave your house and intentionally leave your phone behind, the idea of carrying two "cameras" around makes people look at the iPhone as a real alternative to the traditional little P&S you slip in a purse or jacket pocket. And, in many ways, the iPhone is a good, fun, low-to-mid range P&S.
Let's look at the advantages and disadvantages of the iPhone over a P&S.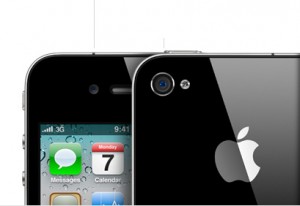 Interface is definitely one of them. In this case, fewer (buttons) is better. It's very easy to take a picture with the iPhone's camera. Click, swipe, tap — camera is ready. When you want to look at the photo, one more click takes you to the library. On some P&S', you have to dig through an often confusing (and different for every manufacturer) menu system.
But while P&S aren't "instant on", they do turn on very quickly and are generally ready to shoot faster than an iPhone. That's important if you want to grab a fleeting instant.
Apple has kindly included two lenses in the iPhone 4 — one rear facing and the other front facing. The latter is great for those difficult self portraits. (Keep in mind, the front facing camera is a lower quality one than the rear facing lens)
Most P&S cameras use little 2GB, 4GB even 8GB Flash Cards as photo storage. The iPhone starts out at 16GB — not all of it dedicated to photo storage but a good portion of it can be.
The iPhone is a 5 megapixel camera, which is perfectly acceptable for any photo you want to take that would stay on your phone to show it off or for emailing to family and friends or putting on Facebook. It's on the low end if you want to print it out at a decent (8 1/2″ X 11″) size. And, right now, you can't print directly to a printer from your iPhone, but you can on several models of P&S.
The iPhone camera is well below even the low end P&S in low light conditions. Even with the "fake flash" Apple has included in the iPhone 4, low light is not the iPhone's forte. Remember, photography is all about capturing light. The bigger, better cameras have bigger, better sensors (and flashes) — and those sensors are what captures the light the lens sees.
That's also why the iPhone has difficulty capturing movement, especially in low light. Trying to capture "action" shots with the iPhone is a challenge.
The iPhone makes up for its lack of action shooting capability with its High Dynamic Range ability (HDR for short and a subject we will talk more about in future columns). While slow (you have to remain very steady to take the three consecutive shots the iPhone needs), The iPhone's HDR is very good for balancing out light and dark areas of your shot. If you haven't played around with it, you really should.
The iPhone is also arguably better when you want to get "artsy". On my iPhone I have over 30 apps to take and manipulate photographs (yes, I am addicted to iPhone photography apps) and instantly make edits and changes. I can take a perfectly average photo and make it "art" with any number of these apps.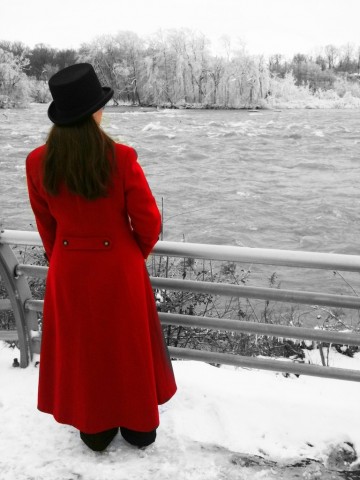 For example, I can play around with mixing black and white and color or use an app to create funky effects and borders. All things you can't do with you average P&S and things you can do within seconds of taking the photo. Throw in the ability to email photos to family, friends, a website like Flickr or Twitter and you have a very powerful photographic tool.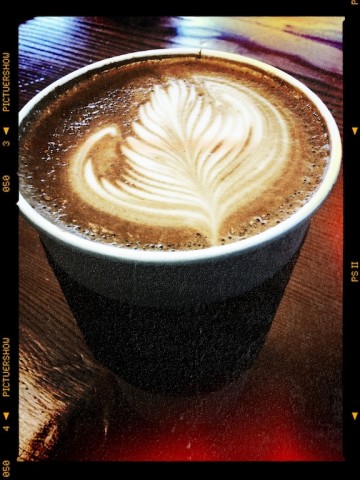 Apple has also made syncing photos ridiculously easy in general (it works well with P&S cameras) with iPhoto and even the Image Capture app. And we haven't even begun to talk about the HD video recording the iPhone is capable of. Coupled with iMovie for the iPhone, and you've got a self contained little movie making machine!
So, to answer the question — "Is the iPhone a Good Point and Shoot Camera?" Yes, very much so. You can get some great shots with the iPhone if you stay within its abilities. Throw in some camera apps from the App Store and you can have a lot of fun making wonderful photographs with your iPhone.
If you are looking to spend under $300 for a P&S and aren't looking to stretch your photographic wings, save your money and buy or use your iPhone 4 instead.
In the next column, we'll talk about the pros and cons of Point and Shoot cameras and the situations where they are better than the iPhone 4.