Apple gave its first look at Mac OS X 10.7 "Lion," the next major iteration of its Mac operating system, at a special "Back to the Mac" event at its Cupertino, Calif. headquarters on Wednesday. The software is slated for general release in summer of 2011, according to CEO Steve Jobs.
[ad#Google Adsense 300×250 in story]Jobs and others gave a sneak preview of some of Lion's features, which include a new Mac App Store – set to make its debut within the next 90 days for users of Apple's current Mac OS X 10.6 "Snow Leopard" software. The Mac App Store will work like the iOS App Store, but will provide access to software for the Mac, specifically.
Jobs explained that Lion is the reason behind Apple's "Back to the Mac" description of today's event, as many of the innovations in the new Mac OS X version are ideas that originated on iOS devices like the iPhone and iPad, and are now making their way back to the Mac – the platform that spawned the technology necessary to create iOS to begin with.
Those ideas include "Launchpad," a new interface that Apple says will make it easier to find and launch applications. It's similar to the home screen in iOS – application icons are displayed in a grid pattern, and you click on them to launch them (accessing Launchpad via a dock icon). Apps can be grouped into folders, as well, similar to how they work on iOS 4.0.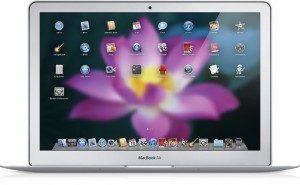 System-wide support for full screen applications is also new; swiping the trackpad or Magic Mouse lets you navigate to different apps, and you can return to your desktop also using a swipe gesture.
Mission Control is another new interface element that provides you with a unified view of all open apps and windows; it incorporates a new version of Exposé which groups windows by applications, provides thumbnails of full screen apps, open Dashboard widgets other desktop Spaces you may have open.
Jobs indicated that many other features in Lion are yet to be revealed.