Apple on Wednesday introduced an update to iLife, the suite of applications it includes for free on all Macs and also makes available separately for $49. It's available beginning on Wednesday.
[ad#Google Adsense 300×250 in story]The new iLife '11 includes new versions of the same applications as before – updates to iPhoto, iMovie and GarageBand served as the highlights during Apple's product introduction at its "Back to the Mac" event in Cupertino, Calif. iWeb and iDVD are also included.
iPhoto '11 got the longest demo, from Apple VP of worldwide product marketing Phil Schiller. Many new features grace the new release of iPhoto, but standouts include more full screen editing and organization controls, a new "carousel" interface to make it easier to create boks and cards, more intelligent book layout features, and new "letterpress" cards that let you combine photos and text – suitable for making wedding invitations, birth announcements, holiday greeetings and other material.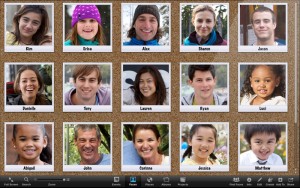 iMovie '11 gains improvements to audio editing thanks to a more intuitive graphical interface and a number of audio effects available through an Inspector interface. "One step effects" let you instantly add complex visual effects like freeze frames and instant replays into your movies. People Finder is carried over from iPhoto, identifying people and faces in clips. This comes in handy when you use the new movie trailer creation feature, which lets you easily assemble highlights of your video into a dramatic movie trailer-style short, complete with different themes and music played by the London Symphony Orchestra. There's also now direct sharing with the popular Facebook and Vimeo services.
GarageBand '11, iLife's music creation software, improves with Flex Time, a new feature that lets you fix the timing of specific chords, notes and phrases by drawing them out, and Groove Matching, which lets you synchronize tracks by identifying one as the "Groove Track" and having others sync to it. Seven more guitar amp simulations and five new stombox effects have been added, along with a new "How Did I Play?" feature, which gives you realtime feedback on your technique, shows where you missed notes or made timing mistakes, and keeps track of your progress. Twenty-two new Basic lessons for guitar and piano have been added.