With MacBooks, Wi-Fi-only iPads and other Wi-Fi-only devices, we have an increasing desire for Internet access when we're out of the range of a local Wi-Fi hotspot. But we're also reluctant to lose our unlimited iPhone data plan with a more limited plan that includes tethering, or to buy a mobile hotspot that incurs a monthly charge. That's what led us to Virgin Mobile's MiFi 2200, a $149.99 mobile hotspot device that doesn't require a contract.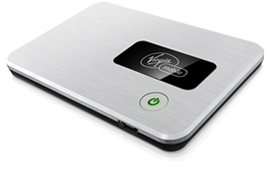 The MiFi 2200, manufactured by Novatel, is about the same length and width as a credit card, though a bit thicker – easily concealable in a jacket pocket or carrying bag or backpack. A single power button on its front is the only interface; turn it on and the internal batteries work for about four hours before requiring a recharge. A USB cable and AC adapter are included to recharge the internal battery, along with a carrying case.
Up to five devices can connect to the MiFi 2200 simultaneously; it generates a short-range Wi-Fi signal that works to a distance of up to forty feet away – it's visible to any device that supports 802.11g or 802.11b Wi-Fi protocols (the faster 802.11n protocol is not supported, but network performance over Sprint's 3G network is considerably slower anyway).
[ad#Google Adsense 300×250 in story]Virgin Mobile is known as a Pay-As-You-Go mobile carrier; the company eschews long-term contracts, instead requiring customers to pay for the service they use. In the past few months Virgin Mobile has reworked its plans to stay competitive, and now offers two tiers of service: $10 gets you 100 megabytes of transfer that expires after 10 days – that's good for about 5 hours of Web browsing, according to Virgin Mobile; or $40 for unlimited service that lasts up to one month. There's no recurring charge, no penalty if you don't pay. Once you've bought the device, that's the end of your obligation to Virgin Mobile.
Setting it up and using the device is simple: It appears to your Mac, iPad or other device as a password-protected network, and once you log on and fire up your Web browser for the first time, a wizard walks you through the device's setup. You're then directed to Virgin Mobile's Web site to pay for access.
Once access is paid for, the device is effectively unlocked for the duration; you can log on from any device, and up to five devices can communicate with it simultaneously, making it a handy access device for small groups traveling together.
Speed varies depending on how strong your signal is and how many devices are connecting simultaneously. Virgin Mobile says you can expect about 600 – 1400 KB/sec on average; our results were consistent with that, with some slower speeds and spotty connection results in fringe coverage areas.
An LED indicates the status of the MiFi 2200; the documentation included with the device tells you what green, amber and red flashing and solid lights mean.
We've also used Virgin Mobile's Ovation MC760, another pay-to-play 3G interface which works by plugging into the USB port on a host computer. The MiFi 2200 works very comparably, with one important exception – because it's Wi-Fi-based, the MiFi 2200 is accessed and administered through a Web interface. If something goes wrong with the connection, you don't get the same immediate feedback that you do through the MC760, which uses custom software on the host Mac. It's a pretty modest tradeoff for the ability to have up to five people at a time check e-mail, surf the Web or perform other tasks while not having to stay stationary in a cafe or other Wi-Fi hotspot, however.