Avid on Wednesday introduced Pro Tools HD Native, giving users a new way to complete audio projects using the power of the computer.
[ad#Google Adsense 300×250 in story]Unlike Pro Tools HD systems that need dedicated processing hardware, Pro Tools HD Native utilizes the power of the computer processor to get the job done. The Native system comes with a PCIe and the same Pro Tools HD software and features that pro users have come to expect from Avid.
The Native system uses the Pro Tools HD interfaces, allowing 64 channels of audio conversion and I/O. Avid introduced several new HD interfaces in August — HD I/O, HD OMNI and HD MADI.
The system also integrates with the ICON and C|24 control surfaces, giving you the tactile control that's important for many users.
Tony Cariddi, Avid's Pro Segment Marketing Manager, explained that a lot of engineers are working in smaller environments these days. While they may not need all of the power of the traditional HD system, they do need all of the capabilities it offers. Pro Tools HD Native satisfies those requirements.
Cariddi also said that Avid tested all of the existing plug-ins with the new system and everything works just fine. In other words, you won't have to wait for updates from your favorite plug-in maker to begin using Pro Tools HD Native.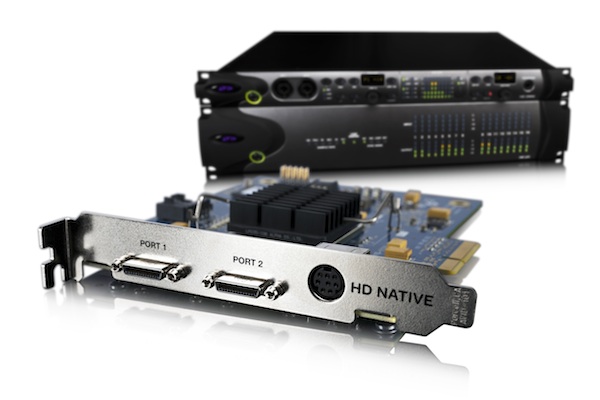 Bobby Lombardi, Senior Pro Tools Product Manager, said the only thing that doesn't work on Pro Tools HD Native are the TDM plug-ins, including the recently released HEAT, because require DSP.
The Native system supports third-party DAWs too. It comes with Core Audio and ASIO drivers, so you can use the system with applications like Logic and Cubase if you prefer.
Avid said they are still investing in DSP systems and its LE platform. Pro Tools HD Native is just another way for the company to answer a growing need among audio professionals.
Pro Tools HD Native requires Windows 7 or Mac OS X Snow Leopard 10.6 or higher.
Pro Tools HD Native will be available on November 5 starting at $3,495. Pro Tools HD Native will also be available bundled with Pro Tools HD OMNI I/O starting at $5,995.