I've been using Pixelmator since it was first released and it just keeps getting better with every update.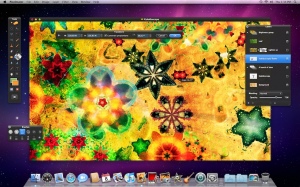 The newest incremental update improves the Photo Browser by making it faster for users. It also adds support for Aperture, Apple's professional workflow photography application.
According to notes provided with the update, stroke results are better, a layer sheet now appears in the window instead of in the Layers palette; the Export for Web button now works in the Slice tool options palette even if there are no slice settings; the Send to Flickr file format has been changed to JPEG so that EXIF information is preserved; the Export for Web button in the Slice tool options palette now works even if no slices are present; and minor user interface improvements have been added.
There have also been a number of bug fixes in the update.
Pixelmator 1.6.1 is a free update for registered users. For new users, Pixelmator costs $59.