On October 9, 2010, John Lennon would have been 70 years old. To celebrate the occasion, Gibson partnered with Yoko Ono to release three new acoustic guitars.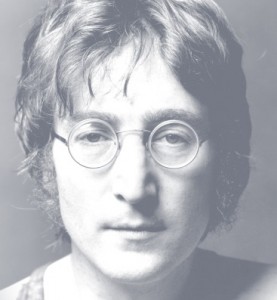 Made by the luthiers at Gibson's Montana acoustic guitar facility, the Lennon guitars represent three periods of the musicians life and career.
The first guitar is a Vintage Sunburst that Lennon used in 1963 and 1964 to record "Please Please Me," "With The Beatles" and "A Hard Day's Night." Lennon couldn't afford to buy the original guitar and had to get a loan from Beatles manager Brian Epstein. I'm glad he did.
The John Lennon J-160VS includes a 70th Anniversary John Lennon MOP signature on the headstock, a 1960's laminated Sitka Spruce Top, mahogany back and sides, the classic vintage Sunburst lacquer finish, Jumbo 1960's Frets, Gibson P-90 pickups, an historic adjustable bridge and a 70th Anniversary MOP engraved 12th Fret birthdate of John Lennon. Gibson is making 500 of these guitars and it will sell for $4,728.
The John Lennon "Imagine" guitar was requested by Yoko "to reflect the sentiment of John's life and music during the recording of Imagine." This white model includes an anniversary John Lennon Abalone headstock signature, 70th Anniversary MOP engraved 12th fret birthdate of Lennon, 1960s laminated Sitka Spruce top, historic Gibson Ladder bracing pattern, Mahogany back and sides, Jumbo 1960's Frets, historic adjustable bridge, Gibson authentic P-90 pickups and a custom hardshell case.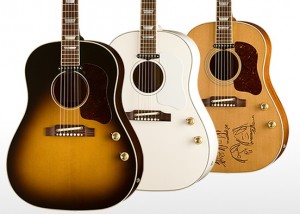 The third model has a natural finish and has Lennon's famous "John and Yoko" caricature sketches, representing the appearance of the guitar during the famous Lennon-Ono "Bed-In" peace protests of 1969. The original model is on display at the Rock and Roll Hall of Fame in Cleveland.
The Gibson Acoustic Lennon Museum J-160E model includes a Gibson Custom Shop Label Personally Signed by Yoko Ono, Authentic Recreation of John Lennon's Bed‐In Caricature Sketch, 70th Anniversary John Lennon MOP Headstock Signature, 70th Anniversary MOP Engraved 12th Fret Birth Date of John Lennon, Label Personally Signed by Yoko Ono, 1960's Laminated Sitka Spruce Top, Historic Gibson Ladder bracing Pattern, Mahogany Back & Sides, Custom Thin Lacquer Finish, Jumbo 1960's Frets, Historic Adjustable Bridge, Gibson Authentic P‐90 Pickup and a Gibson Custom Shop Hardshell case.
The Imagine and Museum guitars are limited to 70 guitars each — one for each year since Lennon's birth. The Imagine guitar will sell for $10,748 and the Museum guitar will sell for $15,048.
"To say how proud I am of these new John Lennon Anniversary guitars is a huge understatement," said Henry Juszkiewicz Chairman and CEO of Gibson Guitar. "The legacy that John Lennon has given music fans around the world is unprecedented and the friendship Gibson continues with Yoko Ono is demonstrated in these remarkable instruments that are in tribute to arguably one of the world's greatest musicians."