I've been using IK Multimedia's AmpliTube on my Mac for years, so I was interested to see what the company developed for the iPad and iPhone. They didn't disappoint.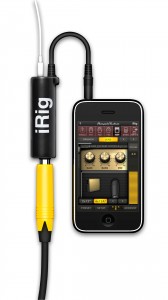 iRig consists of two parts: a hardware adapter and a software application. The iRig adapter is a simple hardware dongle that allows you to plug your guitar into your iPad, process it through the software and then listen to the output.
iRig has a 1/4-inch input for the guitar and an 1/8-inch output for your headphones. It also has an 1/8-inch input that connects to the iPad. In this case, your iPad is like your amp.
You can download a free version of the AmpliTube software, and I did, just to test it out. The free version comes with one amp, one cab, a delay, noise filter and distortion pedal. Not bad to get started, but not nearly enough for me.
The only reason I wanted to try the free version is to see if it sounded good or not. As soon as I plugged in and started playing I purchased the full version for $20. It comes with five amps, five cabs, 11 stompboxes and two mics.
I was really surprised by the quality of the tone I was getting out of my iPad and iPhone. The effects behaved as expected when making adjustments, as did the amps and mics. So much that I decided to take my iPad and plug it into my Pro Tools rig.
Using a combination of adapters, I was able to run my guitar into my iPad through the iRig, into the AmpliTube software and then out of the iRig and into Pro Tools.
I also tried it with Logic Pro and GarageBand. It worked great with all of the apps I tried it with and recorded with a nice clean sound. I had to play around with the settings a bit to get the best output levels, but that's no different than using any other device.
There was absolutely no latency with the setup, even when I was going into Pro Tools and Logic. You can't really ask for any better than that.
AmpliTube has room to hold 36 presets. You just make your preset and hold down one of the preset slots to save it. The app ships with nine presets to get you started.
You can also upload songs to AmpliTube so you can play along with them. You activate the upload on the iPad and login using your computer. then you just upload the file — it shows up in the app in the song section. You are able to play a song and set loop points so you can focus on a specific section of the song.
However, you can't record what you're playing along with the song, which is one of my minor gripes with the app. I would love to have the ability to record what I'm playing. This is especially important if you're on the road and are using the iRig to come up with new song ideas.
The other minor thing that I found missing from the app was the ability to swipe to choose effects or amps. With the iPad supporting gestures, it would make sense to be able to swipe left or right to load a new amp, but you can't.
Those two gripes aside, iRig and AmpliTube are a great combination for guitarists that have an iPad or iPhone. The sound is amazing and it comes with a good amount of amps and effects with the ability to buy more through in-app purchase as IK comes out with them.