Introduced in late July, Apple's newest high-end Mac is now available to order from the company's online store.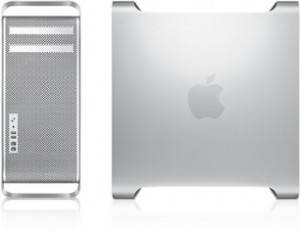 The Mac Pro features 12 processing cores, new ATI graphics and the option for up to 512GB Solid State Drives (SSDs). The 12-core 2.66GHz Intel Xeon costs $4,999 and ships in 7-10 business days, according to Apple.
The $2,499 system has one 2.8GHz quad-core Intel Xeon W3430 processor with 8MB of shared L3 cache; 3GB of 1066MHz DDR3 memory, expandable to 16GB, ATI Radeon HD 5770 graphics card with 1GB of GDDR5 memory on-board, two Mini DisplayPort adapters and one dual-link DVI port, 1TB SATA hard drive, 18x SuperDrive, four PCI Express 2.0 slots, five USB 2.0 ports, four FireWire 800 ports, AirPort Extreme 802.11n, Bluetooth 2.1+EDR, Apple keyboard with numerical keypad and Magic Mouse.
The $3,499 system sports two quad-core Intel Xeon E5620 processors with 12MB shared L3 cache and 6GB RAM.