Marketcircle updated its business productivity app, Daylite Touch for the iPhone and iPod touch, adding some new functionality and support for iPhone 4 users.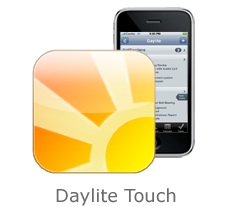 Among the major changes in Daylite Touch 1.5 is support for local notifications. This means that Daylite can notify you of upcoming appointments and tasks by displaying an alert on the screen.
The alert is similar to those received when you get an SMS message and they work even if the app isn't running. You can also choose to setup a default reminder that will automatically alert you 30 minutes before all upcoming events. Of course, you can change the alert time if you wish.
For iPhone 4 users, Daylite Touch added support for multitasking. The app will even perform a sync while in the background. Support for Apple's new Retina display has also been added for iPhone 4 users.
Daylite Touch is a free download with a $49.99 per user/year fee. It requires Daylite 3.11 and Daylite Server 3.11. You can get those applications for Marketcircle.
Update: Added pricing for Daylite Touch 10:46 am PT.