I'm a long time user of Capo, so I was really excited to hear about the advances in Capo 2, which was released on Tuesday. Capo allows you to slow down a song, giving you a chance to find the root note of chords. Once you have the root note, it's easier to figure out the chords and progressions that are used in the song.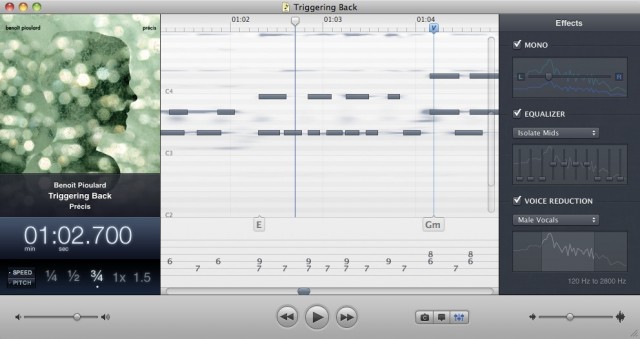 Capo 2 puts that on steroids. Now instead of finding a root note, you can just hit the chord button and it will tell you exactly what chord is being played.
The app also has a detailed spectrogram visualization. This can help you find individual notes in a song, for things like a turnaround or a fill.
"Months of research and development went into the Capo 2.0 release," says Chris Liscio, the company's founder. "This was not only due to the complexity of the algorithms involved, but also the powerful new interface that allows users to quickly tab out the music they wish to play."
All you have to do to get started is choose the instrument you're playing, whether you're using a capo, and the tuning. I've tried Capo 2 on a number of songs and it has been spot on with the chords in every case. The notes were a little more difficult for me, but I'm sure I'll get the hang of that too.
Capo 2 requires Mac OS X 10.6 and costs $49. It is available for download from the company's Web site.