The mere mention of a phone antenna these days and everyone thinks of Apple, but they weren't the first company to run into this problem.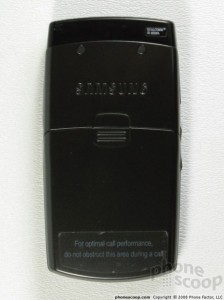 In fact, Samsung was putting warning labels on some of its phones as far back as 2006. The label, which was on the back of the phone, told customers they shouldn't obstruct the bottom of the phone during a phone call.
I was able to find the label on two models of phones dating back to 2006, although it's certainly possible that the labels could have been on earlier models.
The Samsung SYNC and the Samsung Blackjack both came with these labels on the back of the devices, according to reviews in 2006 on Phone Scoop and MSNBC respectively.
While Apple may be the company most closely associated with antenna problems these days, CEO Steve Jobs showed during the press conference last week that its an issue that affects other devices as well. He demonstrated signal loss on BlackBerry, HTC and Samsung devices during his presentation.
Of course, that demonstration didn't go over so well with his competition. RIM co-CEOs Mike Lazaridis and Jim Balsillie called Jobs' demo "unacceptable" and said "Apple's claims about RIM products appear to be deliberate attempts to distort the public's understanding of an antenna design issue and to deflect attention from Apple's difficult situation."
To those users affected by poor signal quality on the iPhone 4, Apple is giving all users of the new device a free case. Jobs said Apple would re-evaluate the situation in September.
Jobs took the opportunity to educate media and users on antenna issues during the press conference, which seemed to satisfy most users.