THQ Wireless on Thursday announced the release of Star Wars: Battle for Hoth for the iPhone and iPod touch. It costs $2.99.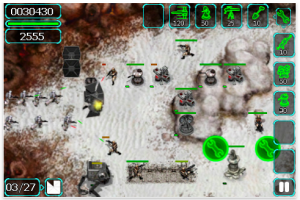 Star Wars: Battle for Hoth adapts the ever-popular "tower defense" strategy game concept to the Star Wars universe. In this game, you're defending the Rebel Alliance's Echo Base on the ice planet Hoth from a ground assault by the Empire. Just like in the movie "Empire Strikes Back," you'll need to repel AT-ST and AT-AT Walkers, stormtroopers and battle droids, using weapons and vehicles like ion cannon, X-Wing fighters, snowspeeders and more.
The game features 15 levels of play and two gameplay modes – Classic and Fortress, multiple difficulty levels, original music and sound effects from the movies, and video footage.
System requirements call for an iPhone or iPod touch running iOS 3.1.3 or later. It'll run on the iPad in pixel-doubled mode.