MacKeeper is a very well thought out multi-function system maintenance utility for the Mac OS that combines a huge amount of features offering both standalone and online services. That is really an understatement in that MacKeeper is actually more of a hub application with a lot of functionality built-in to a single interface. It not only includes application, file and system utilities, but also data management, updating, and live online "Geek On-Demand" services. There is so much functionality in MacKeeper making it a great value if your needs require everything that this software has to offer.
While more advanced users might find MacKeeper will replace many single utilities, "everyday" Mac users will appreciate just how thorough and wide-ranging the abilities are in this product. In fact, it is more like a seven-in-one product that will help to accelerate, optimize, and, if used properly, foolproof your Mac.
There are many features that are well worth noting. First, One-Click Scan allows MacKeeper to look at your entire system and identify areas where you may be wasting hard disk space. This can be anything from cache space to additional languages that you may not need.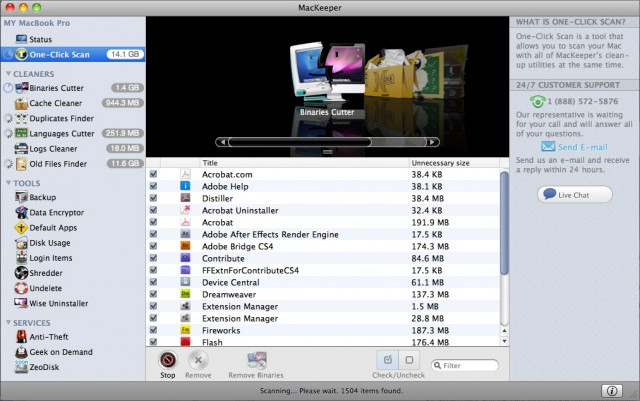 The Cleaners functions can trim back binaries (multiple operating system and processor type aspects of your software), finding duplicate and outdated files. Be advised that removing items that you are not familiar with can cause problems with your system. ZeoBIT includes training videos – both within the software and online – to help you properly use the product.
MacKeeper also provides the ability to recover accidentally deleted files, encrypt data, securely delete (a.k.a. "shred") files, and uninstall applications from the easy to navigate sidebar.
Further, ZeoBIT adds an anti-theft feature that works like LoJack for your Mac; however, unlike similar products, this is included in the software bundle versus a separate purchase of up to $50.
While I would prefer to see this software present screen prompts to allow the user to opt-out of online services and monitoring, it is an effective product. Given that the product examines your entire system, it does require some patience. It can be a slow process.
At some point, a "quick scan" mode or sets of the functions grouped would be helpful. Also, the application's update function did not perform well during testing.
MacKeeper delivers a lot of functionality for a reasonable price. Certainly, it offers a lot of bang for the buck. For one Mac, MacKeeper costs $39.95/one year; $54.95/two years with 3 and 5 Mac pricing options available.