Like so many other iPhone users, my day began today by standing in line at an Apple Store. Ultimately my patience was rewarded with a shiny new 32GB iPhone 4. Of course, I opted for a black one, as that's all that's available (at least until the second half of July – apparently Apple has run into unanticipated manufacturing problems with the white one). So far, I'm very impressed with the new device.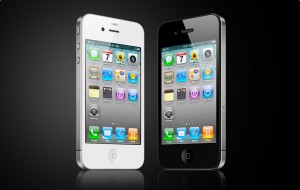 I wasn't able to set up an iPhone to be delivered to my house when Apple began accepting pre-orders, so I settled for an in-store pickup. My situation was better than many, however. I've read about waits of five, six or more hours at some of the busier Apple Stores. At my nearest Apple Store location (Derby Street in Hingham, Mass.), it took those of us in the "reserved" line about one and a half hours to get inside the store (I took my place around 10 AM).
I missed the iPhone 3GS – I wasn't far enough into my 24-month contract with AT&T to get it for a reasonable price – and my 3G has been chugging along, but it seems to have been getting slower with each progressive firmware update. Perhaps it was just me, or perhaps it was the software I was running. I'd restored the phone several times, and hadn't really seen a lot of improvement. The last straw, frankly, was upgrading to iOS 4 – that made many necessary functions on the phone, such as checking mail or my MobileMe calendars, slow to an absolute crawl. So I was happy to get the iPhone 4 on launch day, because I think if I'd been stuck with the 3G much longer I would have smashed it in frustration.
The process of setting up and activating the phone seems to be the bottleneck that's affecting the speed at which Apple can get people through the store on iPhone 4 release day, near as I can tell. They're requiring you to sit through unboxing the device and then activating the phone before you can leave. From start to finish this process takes a good 15 to 20 minutes, which is why the lines have been moving so interminably slow.
Having said that, I can't fault Apple for providing a really top-notch customer experience. The Apple Genius who helped me set up my phone made sure that I was all set and that I didn't have any questions at all before I left the store; I even synced MobileMe on the phone before I left, so I could make sure all my calendar and contact info was intact.
Look and feel
Superficially, the iPhone 4 still looks and feels like an iPhone – it has beveled corners, a familiar candy bar shape, home button and glass front – but everything else about this iPhone screams "new." The curved back of the iPhone is gone, replaced with another flat glass surface.
And surrounding the iPhone 4 is a metal bar, replacing the chrome frame of previous models, that doubles as an antenna. Introducing the phone at WWDC, Steve Jobs likened it to a Leica camera, and I understand the aesthetic. The antenna and planar front and back provide a sophisticated look that's understated and elegant. It's very easy to appreciate, especially when you consider Apple's design philosophy with recent products like the iPad and even the Mac mini.
Surrounding the iPhone are raised buttons that control volume, a speaker/ringer mute switch, and a button that shuts the display off. The iPhone 4 also lets you lock orientation (like the iPad) using a software button that's exposed by double-clicking the Home button.
Reception
If iPhones have had an achilles heel up to now, it's been call reception. People have been quick to blame AT&T, but I've always suspected the design of the iPhone contributed to dropped calls and failed calls. So far, I think the iPhone 4 is very much a move in the right direction. I admit I'm working with only a few hours of use here, but I've been able to make and maintain calls on my iPhone 4 in "dead zones" that have killed by iPhone 3G repeatedly.
There's been some early talk about how the reception of the antenna drops dramatically when the device is being held in the left hand – there are videos on YouTube corroborating this. I've seen my own iPhone 4's bars drop by doing this, too.
I also invested in an Apple "bumper" case, which surrounds the iPhone on all four edges, and this seems to ameliorate the problem. It's not a great long-term solution, but it's worth noting. Obviously, anything that breaks conductivity between your skin and the antenna is likely to help, so conceivably any iPhone 4 case will help.
The bumper case has molded buttons that correspond to where the volume and display power buttons are; they're not physical buttons, just impressions in the case that are metal-colored, but they serve the same purpose. There are also cut-outs for the mute switch, headphone jack and dock connector. The bumper case must be removed to place the iPhone 4 in its dock, though you can attach a raw dock connector cable through the bumper case without issue.
It'll be interesting to see how Apple addresses this issue, because it's widespread enough to be garnering significant attention and corroboration. I wouldn't at all be surprised to learn that it's a manufacturing issue of some kind – I find it hard to believe Apple would have tested this equipment themselves (including notoriously field-testing it away from the Cupertino campus, in less than controlled conditions) and not repeated the problem, if it were a core design fault.
Performance
The iPhone 4 is incredibly speedy and responsive. Apps load up very quickly, and multitasking on the iPhone 4 is a revelation. Double-click the home button and view any open applications; click on them to make them active. Apple's own apps support multitasking, and vendors are releasing iOS 4 updates to their apps as soon as they can get done coding them and through the App Store approval process. In the past two days alone, dozens of apps I own have been updated.
But more than that, everything on the iPhone 4 runs faster. The camera application opens instantly; pictures save much faster, can be attached to e-mails quicker, and so on. The iPhone 4 just doesn't feel as clunky as previous models. And while i'll admit that my perspective is colored from using a long-in-the-tooth 3G, my wife's 3GS also feels much slower now, too.
Display
Apple's much-vaunted iPhone 4 display is certainly clearer and crisper than the iPhone 3G's display. Side by side, simply looking at the same text in e-mail, I can immediately see a significant difference in clarity and legibility. The difference is equally profound when you're using graphics-heavy apps that have been optimized for the iPhone 4's display.
As with multitasking, it'll be a situation where vendors need to update their apps to take advantage, but already some have. In particular, game vendors have been quick to respond.
Still camera and video
I'm astounded by the camera quality of the iPhone 4. The back-facing camera is now 5 megapixels, up from 3 MP, and works great in low light. The phone includes a very, very bright LED that can be used as a flash or as a flood when recording video; either way, it illuminates powerfully (enough that my wife saw spots when she unwittingly looked right at it as I was messing around).
The forward-facing camera, while lower-resolution, still produces a good-quality image, even in weaker light situations. A simple button in the camera app interface lets you toggle between front and back cameras. In addition to a slider that lets you zoom, the camera app also lets you adjust focus in video, a welcome change.
It's purely optional, but Apple has also released a version of iMovie (exclusively) for the iPhone 4. It costs $5 and is available for download from the App Store. The application is very easy to use, and helps you trim your video clips, assemble them together, put them to music and even apply a graphical theme. Several themes are included. I would not at all be surprised to see Apple offer additional themes as in-app purchases somewhere down the road.
As with everything else, the iPhone 4's snappy performance shines through in videos, as well. Videos play back quickly and precisely, and using iMovie on the phone is actually quite a lot of fun. The application retains much of what makes it easy to use in iLife '09, which adopting an iPhone-specific interface that makes editing video a breeze.
Battery life
I'm still working on my first full charge, but I've been impressed with the battery life of the iPhone 4 so far, especially when compared to both the 3G and the 3GS. In several hours of mixed use combining sending and receiving calls, taking pictures and recording video, installing apps over Wi-Fi and 3G, I'm only now approaching the half-way mark. I'd be down to 20 percent or less on my 3G, for sure.
The iPhone 4 requires a different dock than the iPhone 3G or 3GS does, of course, as the case is designed differently. I picked one up for $29 – it's identical to its predecessors in every respect except shape – it still sports a dock connector on the back and a line-out jack if you wish to hook up your iPhone to a music system or speakers. I still prefer to have the iPhone propped up off a counter or desk at an angle rather than leaving it flat.
In conclusion
While the left-handed reception issue is disconcerting, the iPhone 4 is superlative in every other respect. It's a huge leap forward for the iPhone product line, and it's exciting to speculate on how much of the technology in this device will trickle down to the next generation of iPod touch. If you're eligible to get the iPhone 4 at a discount and can afford the $200 or $300 price tag (plus accessories and AppleCare, which I strongly recommend), I'd definitely consider making the purchase. I don't think you'll be disappointed.