Adobe on Wednesday will announce that it will bring its professional music application, Audition to the Mac. A beta for Mac is expected to be released later this year, sometime in the Winter 2010.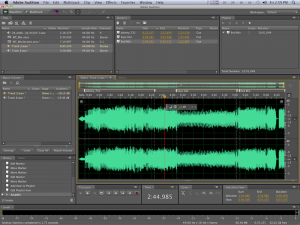 There are a number of music apps available for the Mac, helping musicians and audio engineers to create music, so the big question is how Audition will fit into the mix. With Logic, Pro Tools, Digital Performer, Cubase and several others already fighting for users, Adobe said it is focusing on the broadcast and audio post-production market.
"It's a pretty saturated musician market, but there is a hole in the fast editing, post-production market. That's where you're going to be able to take advantage of Audition," Jason Levine, Adobe Senior Worldwide Product Evangelist for Dynamic Media, told The Loop.
An audio engineer himself, Levine said that Audition has a number of features that cannot be matched in other applications. Most notably, Levine said Audition's noise reduction and restoration capabilities will be something to watch out for.
"There are plug-ins that can do noise reduction, but quite frankly, Audition is just better," said Levine.
Audition will also feature some very familiar tools like a Paint Brush and Healing Tool. Photoshop users know these tools well and they work just the same in Audition, except with audio instead of images.
Audition for Mac will not be 64-bit, but Adobe said that many of the DSP algorithms and processes are 64-bit.
Click an image for a larger view
While the app has been under development for some time, it is still being developed, so not all of the features have been nailed down yet.
For instance, Levine said the ability to import projects from standard formats like OMF has been a popular feature, but its not something he could talk about yet. Similarly, Audition will support VST plug-ins, but Levine couldn't say whether Audio Unit or RTAS support would be added.
What will be in Audition is multi-channel support for 5.1 surround sound and a number of new audio effects.
"You can cut where you're comfortable, but when you want to do your finishing and mastering, come to us," said Levine.
You can sign-up to be notified when the beta becomes available later this year. You can also check out the Windows version to get an idea of what Audition can do.